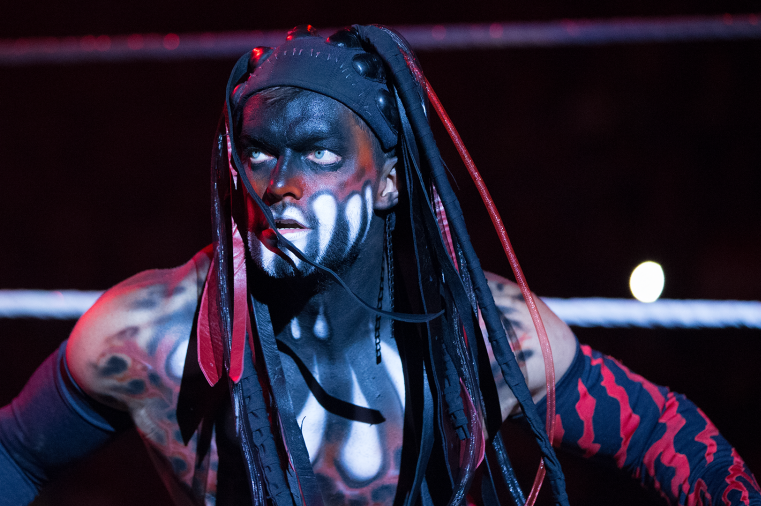 WWE
It is time for WWE to get Finn Balor out of purgatory known as Raw.
Fans have enough fingers to point out when it comes to under-utilized talent throughout WWE, but no-one is worse off than Balor, even when splashed into paint.
The obvious path of Balor to get his career back on track is via SmackDown, not the red brand. We are talking about the inaugural universal champion. Cursed as the belt is apparently, it is more about the fact that WWE tied the rocket to Balor's back and quickly followed him to superstar with victories like Roman Reigns and Seth Rollins than it was something else.
But since his return from a dislocated shoulder, which he threw back into place to complete the game in which he won the title, Balor has suffered losses to boys like Kane, Bray Wyatt and others before being presented as a filler, at random thrown in tag-matches and used as a gag while Drew McIntyre passes him on the way to the top.
SmackDown did not ask Balor for the same problems, especially now with a heel champion like Daniel Bryan and top performers like A.J. Styles and Randy Orton can change this in the blink of an eye. The blue mark is clearly the show with more chances, so as we have seen at Styles and otherwise, he could improve the microphone as he makes his way to the top.
Unlike the injury itself and an abundance of talent in WWE, perhaps Balor's biggest criticism is that he is nothing special about the microphone, despite his ability in the ring. Even that can sometimes be boring (drop kick, slingblade, suplex), but it has not prevented someone like Reigns from being on the throne for so long.
Fresh opposition and a chance to reinvent the character could wait for SmackDown. And the character needs some work, because the recent Raw approach is a smiley coat that makes Balor vulnerable, with The Demon almost non-existent.
But remember how exciting the shocking return of The Demon to SummerSlam was? How hard was that audience? Do you remember how Baron Corbin's curb was, how much Corbin begged the referee to cancel it?
That's the kind of Balor fans that deserves. He does not have to be Samoa Joe on the microphone. Few are. But there is no other Balor, and there is probably no character dynamics as interesting as his interaction between himself and The Demon.
Which also makes him the perfect fit for the blue brand as it turns to Fox and what is probably a more sport-oriented offer. Balor has the perfect mix of elite athlete and character work to bridge both public gaps. The Demon getup is the perfect marketing tool for a very popular character in the same way as for Sting when he had transcended the sausage scene in the late 80s / early 90s, not to mention the heavy influence of the comic book in a time when things like Marvel are not popular.
Balor also has the Balor Club for Everyone movement, which made waves on WrestleMania:
Finn Bálor for EVERYONE @FinnBalor

Imagine that all people live in peace … 💙💚💛🧡❤️
BálorClub fOreVERyone https://t.co/poJjUhZEfp
A versatile figure with the classic wrestling mystic to boot, Balor is the ideal top dog for a SmackDown offer from 2019 that is looking for progress in a new environment. Styles is probably the best in the world, but he is not a concept outside of the worster circles. Bryan flirted briefly with that area, but mainly through a song.
And for those who have no interest in making a big star outside of the WWE ecosystem, think of the enormous opportunities available on the blue brand. As Styles remains, there is The Club-background, let alone the classic that the two had in TLC in 2017. A heel Bryan is an obvious foil. Ditto for Shinsuke Nakamura. Samoa Joe vs. The Demon? Yes please. Randy Orton trying to get Balor out also sounds good.
But they can even run the risk of keeping Balor as a good guy for a cookie maker if he does not have to. Some of Balor's best careers came as a villain, and WWE has often been more successful by labeling people as bad than good. Think of Dean Ambrose and Bryan, to begin with.
Anyway, SmackDown makes more sense for Balor in 2019, so that he can spread his wings. There is too much going on at the top of Raw, with McIntyre clearly on the rise and a final boss of a champion who hardly defends the title. If WWE had built the Demon of Balor in the right way, he would have a realistic shot at Brock Lesnar. The WWE championship on the blue mark would not only be the obvious target for Balor, but always within reach.
Funnily enough, SmackDown did not desperately search for wrestlers who appeal to more casual fans and felt better with hardcore fans right from the start of the brand's split. But the wind of change is blowing, and they seem to coincide poetically with Balor's desperate need for change. What he puts in all facets on the table could serve as the ideal compromise that WWE in 2019 is trying to make a new rope with SmackDown.
Maybe WWE has always come up with this, where it focuses on Balor as a clear brand swap candidate. The megaster plan went out of the window with the injury, but a switch to SmackDown could realize that potential anyway with an organic swelling of momentum on a show that is just a better fit.
Although it is a little strange that WWE did not have a better profile for what Balor has to offer, a move to SmackDown seems to offer a situation in which fans leave them no choice but to visit Balor as a megastar.
Source link