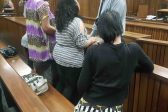 The Springs father who tortured and tried to kill his son, raped his daughter and severely abused all his five children, is a psychopath and sadist who poses a high risk to society, a psychologist told the Supreme Court in Pretoria on Monday.
Psychologist Bronwynn Stollarz testified that the father of the man had seriously abused him as a child, he had been sexually abused by one of his father's friends and he got a depression after both his parents had died during a murder suicide.
She said that she had interviewed many suspects as a former officer at the police investigating psychology department, but had never seen the degree of minimization and lack of consciousness to the extent the father showed.
He believed that he had been completely rehabilitated because he had "found God" and established his own little church group in prison, but Stollarz admitted that this could simply be part of his manipulative nature.
"He feels that he has been rehabilitated and has found the Lord, and by extension thinks that his children also want to have a relationship with him.
"… I feel like he knows what he was doing and says he feels sorry for it, but that does not indicate remorse," she added.
Stollarz testified that the father would remain a psychopath and sadist for the rest of his life and had negative prospects for rehabilitation, but that he could be helped to improve his understanding of his crimes and the impact they had on his children.
The father (40) was convicted on charges of attempting to murder his then 11-year-old son, raped his daughter (then 16), defeated the ends of justice and impeded justice, five counts of child abuse, five of child neglect and of drug trafficking and possession.
The mother, described by the court as a battered woman, was convicted of defeating the ends of justice and obstructing justice, as well as five charges for child neglect and drug possession.
The heavy torture and ill-treatment of their five children came to light after their eldest son fled to the neighbors after a particularly brutal beat-up by his father. A neighbor warned the police, but by that time the couple had hidden the boy in the ceiling and later took him to the family in the Free State.
The large double house of the family in Springs, Ekurhuleni, Gauteng, became known as the house of horrors because of its filthy condition, with rats running around and no food in the cupboards.
The state handed over victim-effect reports about the three youngest children and statements from the two oldest children showing that all children had developmental problems because they never went to school, adults did not trust and most of them showed signs of aggression.
The older children said that they hated their parents and that they never wanted to have anything to do with it. The eldest boy (now 15) who was the victim of his father's sadism said that he hated his father and killed him if he could. He felt that he would never be normal and wondered why he was still alive, though he felt that he had saved his brothers and sisters by escaping and getting help.
The eldest daughter (now 20) said she had believed that torture, neglect and abuse were "normal" and realized that it was far from normal to stay with relatives.
The state asked for long-term detention for the father and immediate imprisonment for the mother, but the counsel of the mother argued that she would only receive a suspended sentence because she was also the victim of ill-treatment.
The test continues.
Download the The Citizen app for more news in your own way iOS and Android.
Source link