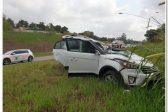 One person died and six others were injured in two separate accidents on the N3 Durban-bound just after Richmond Road in Durban on Sunday afternoon, paramedics said.
Shortly after 1.30 pm, the Rescue Care paramedics came to the site to discover that a car had fallen down and landed on the side of the busy highway, said Rescue Care spokesman Garrith Jamieson.
"Six occupants suffered multiple injuries and were stabilized on site by advanced paramedics for life support before being transported to various Durban hospitals for further care they needed."
While the recovery was under way, a second crash occurred just after fifteen when a motorcyclist lost control of his bike and came to a standstill on the middle-median.
"Advanced life support paramedics have arrived [the] scene to find the man in cardiac arrest. Despite resuscitation efforts, the man's injuries were too serious and he died on the spot. The man was reportedly in his fifties. & # 39;
At this stage, the events prior to the two accidents were unknown, but the local authorities were investigating, Jamieson said.
– African News Agency (ANA)
Source link