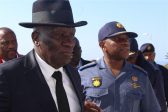 Police Minister Bheki Cele strongly condemned the murder of two unofficial police officers on Friday night in two separate incidents in the Delft and Khayelitsha areas in Cape Town.
Constable Lonwabo Kili, 30, was shot dead in the Delft area and Constable Siyamcela Ncipa, 37, was shot in Khayelitsha and their firearms were stolen in both cases, spokesman Reneilwe Serero said in a statement on Saturday.
A 72 hour action plan was issued by Cele to ensure the perpetrators are arrested and taken to the book and the stolen firearms are restored.
"Minister Bheki Cele expresses his deepest condolences to the Kili and Ncipa families and strongly condemns these senseless and cold murders of police officers." Members of the South African police force are a national asset and they must be protected at all times by us. all, including members of the community, "the statement said.
The police appealed to the public to help with information to identify the suspects by reporting to the nearest police station or by contacting the toll free number on 08600-10111.
– African News Agency (ANA)
Source link