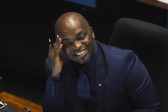 A report in the Sunday Times has revealed that an "EFF leader" has revealed that the party never really intended to continue its vote of no confidence against the mayor of Tshwane, Solly Msimanga.
When he spoke anonymously, he told the newspaper that they had only reminded the DA that they did not govern without the support of other parties, but they did not intend to take control of the ANC in the capital.
The public prosecutor refused to support any candidate for a mayor other than Msimanga, which the EFF demanded.
The EFF leader said the EFF "was not in the process of removing that guy, so if we wanted to, we would have removed it."
It is also apparently unlikely that they will seriously support further attempts to boot the mayor. Msimanga, for his part, has certainly remained about his position.
The report adds that the EFF deliberately smothered their own motion by submitting it incorrectly. It was then not allowed on the board. The EFF would then have supported the ANC motion against Msimanga, which had been duly submitted, but chose to go away and claim that they were going to court.
It made many people scratch their heads in confusion after many analysts were convinced that Msimanga had no hope of survival.
However, the EFF leader said they could not vote for an ANC mayor, because even ANC members were lobbying not to support the ANC candidate, regional president Kgoshi Maepa.
"How do you vote for a party that can not get its own house in order?" Said the EFF CEO.
The article in the Sunday Times also reported that this week there was a group in the DA who wanted to withdraw the party from coalitions in the subway to ensure that it would not continue to rule if it included the support of the & # 39; racist & # 39; EVF.
Some senior DA leaders expressed concern that the mayor of Johannesburg, Herman Mashaba, is "too close" to the EFF.
DA leader Mmusi Maimane said, however, that there would be no withdrawal from the metro.
The EFF worked with other opposition parties, including the ANC, to remove Athol Trollip as mayor of Nelson Mandela Bay, but refused to support an ANC candidate to replace him.
The UAM's Mongameli Bobani took over and the EFF again lost positions in its mayoral council. Bobani controversially agreed to give ANC Andile Lungisa, condemned for abuse and appealing for his punishment, a top position – something that EFF leader Julius Malema quickly criticized.
The DA and its coalition partners have started a lawsuit against the outcome of Monday's motion of no confidence.
The only likely non-ANC candidate for mayor in Tshwane if the EFF were to remove the DA coalition that also included the Freedom Front Plus, Cope and ACDP would be a lone board member of the PAC.
Source link