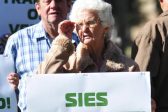 The Financial Services Conduct Authority (formerly the Financial Services Board) has completed a preliminary investigation and is now conducting a full inspection of Regimental Capital and the Transnet Second Defined Benefit Fund, according to the Democratic Alliance on Sunday.
"In October last year, the DA wrote to the Financial Services Board requesting to investigate allegations that regiments and its directors are making unjustified payments of more than R500 million from the Transnet Second Defined Benefit Fund to Gupta affiliated Trillian and Albatime entities between December 2015 and April 2016, "said DA spokeswoman Natasha Mazzone.
Regimes allegedly did not announce the reasons for making these payments, indicating a possible violation of the Financial Advising and Mediation Act.
More than 50,000 hard-working employees, some of whom were already retired, were dependent on Transnet to deposit their hard-earned money into reliable hands, she said.
The officer awaits the findings of the investigation and trusts that strong action will be taken against those who have failed in their fiduciary duty to monitor properly.
– African News Agency (ANA)
Source link