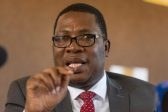 Gauteng Education MEC Panyaza Lesufi has retaliated on the Freedom Front Plus (FF +) after the party has filed more than 200 charges against him in connection with the controversial issue about the language of Overvaal.
Two months ago, Lesufi's department lost a lawsuit against African high school after attempting to get the school to work because she had denied 55 English-speaking pupils earlier this year.
The FF +, who accused him of building a political career against anti-African agitation, has always had it before the minister. At the end of August they filed a 389-page complaint against Lesufi, accusing him of contempt for the constitution.
When she came to Twitter shortly after being served on Mondays, Lesufi twittered: "I have 272 charges for calling up a non-racial education system for everyone, I'm not intimidated"
I receive 272 indictments for calling up a non-racial education system for everyone. I am not intimidated pic.twitter.com/qhFLHfbewv

– Panyaza Lesufi (@Lesufi) September 17, 2018
The tweet contains a screenshot of a Facebook message that he published, with images of the paperwork, with the caption: "I am honestly NOT intimidated by those who think that a non-racial education system is a violation of the constitution. Today I received 272 complaints from the Freedom Front Plus claiming to target Afrikaners Non-racialism is the future, nobody can stop! I am ready to face this frivolous and time-consuming indictment. "
READ ALSO: WATCH: Lesufi touches Afrikaners
The party accused him and his department of refusing Afrikaaner pupils to be taught in Afrikaans, besides the fact that they denied Afrikaaner schools the right to be strictly white.
Speaking to the EW, Lesufi called the process "cheap politicization & # 39 ;.
"It frightens me because I believe people abuse the fears and frustrations of a certain part of our society, people have spread lies and misinformation to this community to get them to vote in parliament in 2019," Lesufi added. .
In a recent statement released by the party, the FF + has blamed the current violent and immoral behavior of students squarely at the feet of Lesufi.
"The problems that broke out at school last month were a symptom of lack of discipline and lack of respect for any kind of authority," the party said.
"Lesufi will have to begin to realize that his stubborn action completely transforms schools in Gauteng into lawless institutions that serve as training centers for criminals rather than educational institutions where students should learn order and discipline."
Download the The Citizen app for more news in your own way iOS and Android
Source link