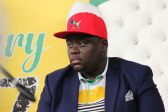 ANC Youth League Secretary-General Njabulo Nzuza told the leader of economic freedom, Julius Malema, to "make it happen" after Malema reportedly filed a lawsuit against the competition.
Nzuza, who spoke to Power FM on Monday morning, swore to expose the leader of the EFF to claims about bribery. Nzuza maintains that the allegations are true.
This came after a report on the weekend that Malema accused Nzuza of allegations that he was trying to bribe officials to the International Union of Socialist Youth in an attempt to vote for the presidency of the organization.
Nzuza acknowledged that Malema was no stranger to the courts, but urged the EFF leader to "take out the EFF balaclava and take it up".
"If he wants to use legal means, we welcome it because it gives us the opportunity to provide evidence."
Nzuza also challenged Malema to come on Power FM, so that & # 39; we & # 39; to expose him.
He said he was unaware of the reported R1 million lawsuit, but had received a letter from the EFF asking for apologies against Malema and the EFF.
He said that, in his opinion, Malema had to bring his case without the EFF, because the party did not even exist when Malema reportedly tried to bribe officials.
Malema's request for an apology from Nzuza relates to requests for bribery during an interview about the recently suspended JJ Tabane's show on Power FM on 21 August.
The EFF leader filed the defamation case against Nzuza and claimed R1 million, according to Sunday World.
Judicial documents filed with the Supreme Court in Johannesburg allegedly claimed that Nzuza said that Malema's bribe was not successful, resulting in the expulsion of the division of the global body.
Malema states that the claims are defamatory and have caused damage to his "good name, reputation and political status".
He says that the damage can be paid by the youth association or by Nzuza himself.
Source link