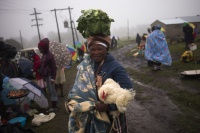 ---
News and research before you hear about it on CNBC and others. Claim your free trial period of 2 weeks before StreetInsider Premium here.
---
From Joe Bavier
JOHANNESBURG (Reuters) – The South African Poultry Association (SAPA) has filed a lawsuit to force the government to suspend a quota that excludes some US imports of poultry from an anti-dumping tariff, a senior official said on Tuesday.
If successful, the switch – a response to the Trump government's decision to impose tariffs on imports of aluminum and steel – could impede access to the US market free of duty for exports of nearly $ 2 billion in South -Africa.
"We have pulled the trigger," Marthinus Stander, chairman of the SAPA broiler organization, told Reuters, referring to the legal action that the association had threatened for more than a month.
The South African Minister of Trade and Industry Rob Davies acknowledged that the government had received the court documents relating to the poultry group's case, but refused to comment further.
South Africa levies a tariff on so-called "poultry" poultry alleged to be exported by major world producers, including the United States, at prices below production costs.
But in 2015, the South African government agreed to a quota that would allow about 65,000 tonnes of meat from American producers to be imported to South Africa each year for free.
South Africa has agreed to the deal to maintain the benefits under AGOA – the flagship trade legislation of the United States for Africa – granting eligible countries rights-free access to the US market for thousands of goods.
In 2017 more than $ 1.8 billion of South African export products, including some now subject to 25 percent steel and 10 percent aluminum prices imposed by Washington earlier this year, were covered by AGOA.
The South African government has tried in vain to convince the Trump government to make an exception to the new rates.
The association of poultry farmers says the US rates violate the agreement on the quota for poultry.
"The quota should be suspended if any of the benefits that South Africa enjoyed at the time of the extension of AGOA was suspended, with steel and aluminum that was previously free of duty under AGOA," said Stander.
Others are against the position of SAPA.
South African meat importers argue that the dumping of the tariff-free quota would drive up prices for the consumers of the country and would probably lead to retaliation by the American poultry industry.
"I do not think they are going to sit down," said David Wolpert, CEO of the South African meat importer association AMIE SA, referring to American poultry producers. "I think they will immediately lobby in Congress to take reciprocal action … There can be a domino effect."
($ 1 = 14,6363 rand)
(Edited by James Macharia and Jane Merriman)
Source link