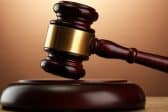 Three men are sentenced this week for murder in two separate cases in Newcastle, and sentenced to life imprisonment and further lengthy sentences for other serious offenses, the KwaZulu-Natal police said Saturday.
Thembinkosi Kubheka, 26 and Sifiso Mkhwanazi, 27, were each sentenced in the Madadeni High Court in Newcastle to three living conditions on three counts of murder and a total of 45 years in prison for theft with aggravating circumstances, according to Colonel Thembeka Mbele.
Mduduzi Ndlovu, 35, and Walter Mabaso, 45, were found dead in the Nquthu CBD at 23:00 on February 22 this year. Both were stabbed several times and their valuables had disappeared. Two murder cases were opened for investigation at the Nquthu police station.
Around 6.20 the next morning, the body of Stanley Nkosi, 51, also with several stab wounds, was found in Luvisi Road just outside the CBD. A third murder case was opened for investigation at the Nquthu police station, Mbele said.
"A dedicated team of detectives worked tirelessly to resolve the issues, and they put the documents together, leading to the accused's arrest.The suspects were both charged with murder and robbery and held in custody until their successful prosecution. They were each sentenced to life for every murder and 15 years for every robbery, "Mbele said.
In an unrelated case, Sandile Blessing Kunene, 34, was convicted and convicted in the Madadeni High Court for the murder and theft of a "Mr Onke" in March 2017 and deprived him of his vehicle. Kunene was sentenced to life imprisonment for murder and 15 years for theft, Mbele said.
– African News Agency (ANA)
For more news in your own way, download the Citizen app for iOS and Android.
Source link