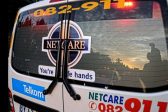 A woman died and a man was admitted to the hospital after being repeatedly stabbed in a house in Margate, south of Durban, paramedics said on Sunday.
According to Netcare 911 media liaison officer Shawn Herbst, paramedics were named to a home in Margate Ext 3 where two people were stabbed earlier today, reports South Coast Herald.
ALSO READ: Oudtshoorn matriculant stabbed to death
Messages from the scene indicate that a woman had suffered several times wounds to her entire body and appeared to be in a critical condition. She went into a cardiac arrest and died on the spot, despite the efforts of the paramedics.
A man in the house also appeared to have been stabbed several times. He was treated by an Advanced Life Support paramedic before he was taken to the hospital.
The police were on the scene, and comments were expected from Margate's police spokesman, Captain Gerald Mfeka.
Download the Citizen app for more news your way for iOS and Android
Source link