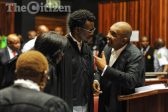 Zanu-PF & # 39; s secretary for legal affairs Munyaradzi Paul Mangwana defended the decision of the Government of Zimbabwe to deny Nelson Chamisa's South African lawyers access to the Constitutional Court when the lawsuit first began on Wednesday .
Chamisa challenges the election results of July 30 and the victory of president-elect Emmerson Mnangagwa.
"To be able to work in another country, you must comply with the laws of that country, I understand that the lawyers also had challenges with immigration, I can not just go to South Africa and start practicing without meeting the national laws of South Africa, "reported Pindula News Thursday at Mangwana.
He said the SA team lacked work permits.
"It is not the intention of the government to stop them from working in this country There is no automatic right of listeners in the Development Community of Southern Africa (SADC)."
The lawyers were later admitted after intensive negotiations with the judicial authorities and ironically, Minister of Justice, Legal and Parliamentary Affairs Ziyambi Ziyambi who had previously stated that the government would not block Chamisa's foreign lawyers to represent him.
Download the The Citizen app for more news in your own way iOS and Android.
Source link