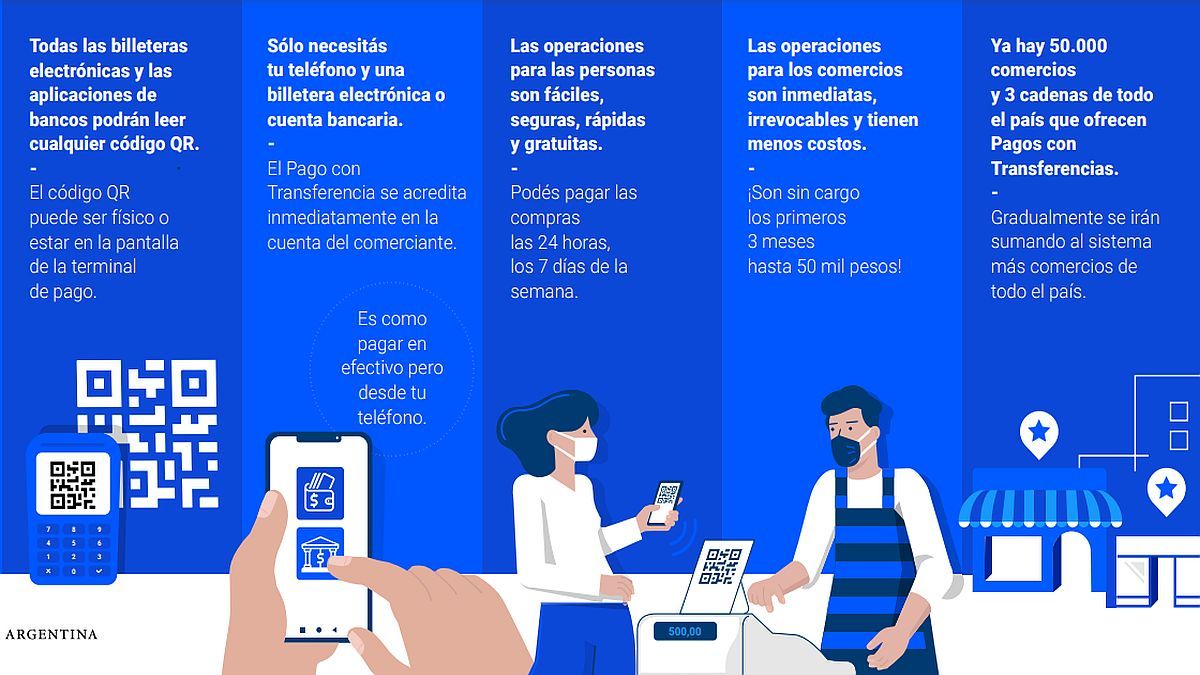 This measure "will expand the scope of instant transfers, enabling the building of an open and universal digital payments ecosystem," the entity reported.
"With a phone, users can read any QR code with any virtual wallet or banking application. Paying by bank transfer is like paying in cash, but with the phone. For humans, operations are simple, safe, fast and free. And for businesses, they are immediate, irrevocable and have a lower cost, "he added.
The system starts to work gradually and in this first phase will be available in 50,000 stores and 3 chains. Gradually, the rest of the companies will be incorporated across the country.
The characteristics of the payment by bank transfer, created by the Transfer 3.0 program, are:
-Interoperable: The standardized payment interface (IEP) is made with an open architecture that allows all accounts (bank and virtual wallets) to work together.
Because it is an open and interoperable ecosystem, users can use any payment platform. This makes it possible, for example, for the same QR code to make payments with credit transfers, either from current accounts with financial institutions or from current accounts of fintechs (non-bank payment service providers).
The open system benefits the entire ecosystem with a standard that players can participate in, taking advantage of the network economy and scale of digital payments.
-Now: companies automatically receive accreditation. In addition, the payments are irrevocable.
Within the new system, the total immediacy of transfers is guaranteed 24 hours a day, 7 days a week, both interbank and intrabank and between different payment schedules. All transfers between accounts of different banks and accounts within the same bank will be instant, for both human and legal accounts.
-Economic: ends with the hidden costs of cash handling for companies (transport, storage, security).
-Competitive: opens up competition for services to retailers and neighborhoods. Commissions to companies are limited to 8 per thousand.
The companies considered MiPyMEs adhering to the system will have no commissions for the first 50,000 pesos they bill each month for the first three months of using the service. This way they can extend the payment methods to their customers.
-Flexible: It allows you to operate cards, QR, DNI, payment requests and biometrics (e.g. fingerprint).
With this initiative adopted by the BCRA, Argentina will have a more modern, flexible and sophisticated payment system that is able to replace cash efficiently and securely.
Transfers 3.0, in turn, is a strong impetus for a primary objective of this Central Bank: to achieve greater inclusion in our country, both by expanding the use of the system and by integrating those sectors that do not yet make use of financial services. .
It will contain more functionalities in subsequent stages. For example, a warranty acknowledgment and monitoring notification will be established through the ISO 20022 standard.The program will be gradually implemented until its full implementation on November 29, 2021.
The same, The BCRA will work with other state and provincial agencies so that the deductions applied to micro and small business account transfers are not made.
Source link