We'll leave you the scores for Racing's defeat against Arsenal for the sixth date of the local tournament. Here, The One X One from Arsenal 1 – Racing 0 Do you agree with Racing de Alma?
31-Matías Ibáñez (5): They only kicked the bow once and he responded well. Nothing to do in the end.
2-Juan José Cáceres (5): He made a child penalty that cost Racing the game. If you take that out, his performance was good. Tough on goal and right on the ball
6-Lucas Orban (5.5): Arsenal attacked little and nothing and he responded. He was sent off at the end of the field for double yellow.
12-Fernando Prado (5): He didn't have much work either. He tried to be cumbersome with the ball.
22-Walter Montoya (4.5): It was not clear, although he showed much dedication and sacrifice.
8-Fabricio Domínguez (6): He played intern, but did not give football to Racing. T had some interesting appearances like a shot from distance and the luxury of leaving a rival on the road. Not much more.
42-Patricio Tanda (4.5): It was difficult for him to handle the ball and the match times. Many want to try to recover.
27-Tiago Banega (5.5): Lots of back and forth in between. He had two shots from the outside, but he threw it in the clouds.
17-Benjamin Garré (4): Very bad match. In this case, the score was not lower as the big mistake was made by BKCC by putting him as a winger. The brand suffered and never defected.
26-Carlos Alcaraz (6): The boy plays everything. He started from the second run, went from nine and ended up playing five. The ball is always given to a partner.
14-Leandro Godoy (4.5): He barely touched the ball. I fight, he fought, but it cost him. He was hurt.
The Racing Substitutes scores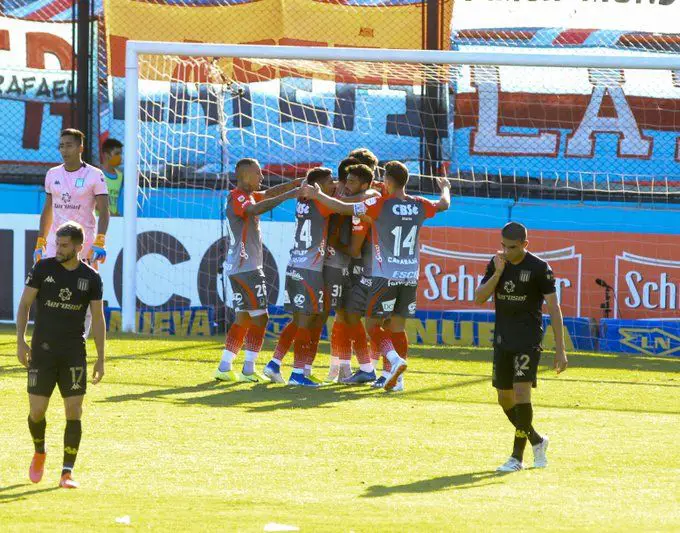 7-Héctor Fértoli (4.5): He came in to change the face of the Racing attack and he never succeeded. Loose.
35-Lorenzo Melgarejo (6): It took 29 minutes to get into the game. In the last 15 he got a nice shot from the outside and a great assist from Cvitanich in the goal (badly rejected).
18-Augusto Solari (5): His lack of rhythm was noticed. Slightly accelerated, sometimes the ball was carried forward. His dynamism is important in the team.
20-Darío Cvitanich (5.5): He won well in a Melgarejo center and sent it to save, but the line canceled (badly) the goal for offside. Then he tried to rebound and generate a special, but it was difficult with a defense far behind.
11-Ángel Gómez (5.5): He leaned back to the left and showed guts and mischief. He asked for it and was encouraged, but it was not enough.
DT: Sebastián Beccacece (4): What he did to Garre is unintelligible. He set him like a side handlebar, as he doesn't know, and liquidated him. He also took it out in the ET because of the low level. Sometimes their constant changes of names and positions make the players dizzy. He used Alcaraz in three positions this afternoon. Fértoli was never clear where to stand. He was looking for a draw from the bench, with experienced players, but he couldn't. The PT was very, very bad and in the ST it was more vehemence and centers than an extended game.
Source link