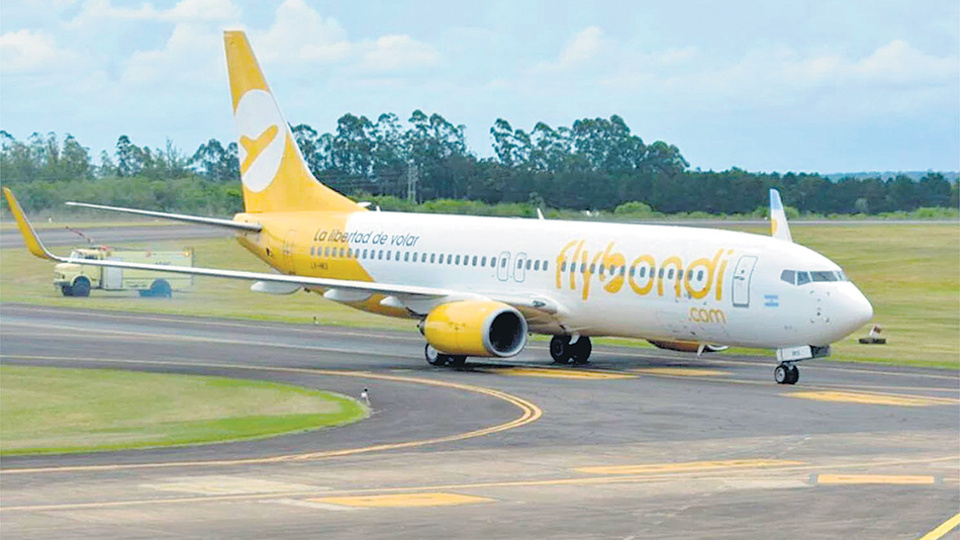 A new incident contributes to the already long list of technical problems that the low-cost airline Flybondi has been running since the start in February from El Palomar airport. This time the problem was recorded yesterday at 6.30 pm during a flight to Bariloche which had to return to half an hour to the point of departure due to serious mechanical disturbances. The problem would have been caused by the pressure drop in the aircraft, which forced the pilots to return to El Palomar, only 30 minutes after takeoff. Nevertheless, after an evaluation at 20:42, the plane left for Bariloche again.
The mechanical failures related to the Flybondi Boeing 737-800 aircraft registered with the license plate LV-HFQ which was named by the CEO of Flybondi, the Englishman Julian Cook, with the name of one of his dogs named "Max". The plane is more than a decade old and has already been used by more than 22 different airlines until it reaches the hands of Flybondi.
After the take-off of the El Palomar military base at 6.30 pm yesterday, the plane could not pass eleven thousand feet when it began to register errors. Although there was no official report from the company, the versions suggest that the failure caused a serious pressure problem in the cab.
Despite what happened, the damaged plane returned to the sky at 8.42 pm, after the first frustrated attempt, which lasted about 30 minutes.
Flybondi collects passenger complaints due to delays and cancellations of flights and a cataract of criticism for the use of old aircraft that cause serious disruptions and for flights from an airport that does not have the minimum safety conditions.
Source link