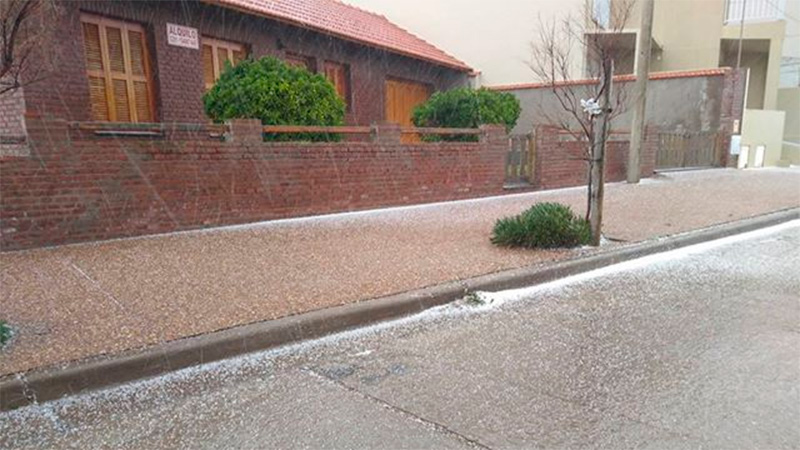 The inhabitants of the province of Buenos Aires were surprised this Sunday by
a phenomenon that many confused with sleet
but that in reality
graupel
is mentioned.
of a manifestation that appears when
"small hailstones"
are generated because "there is very cold air coming in next to the surface heating", according to what they have explained from the National Meteorological Service.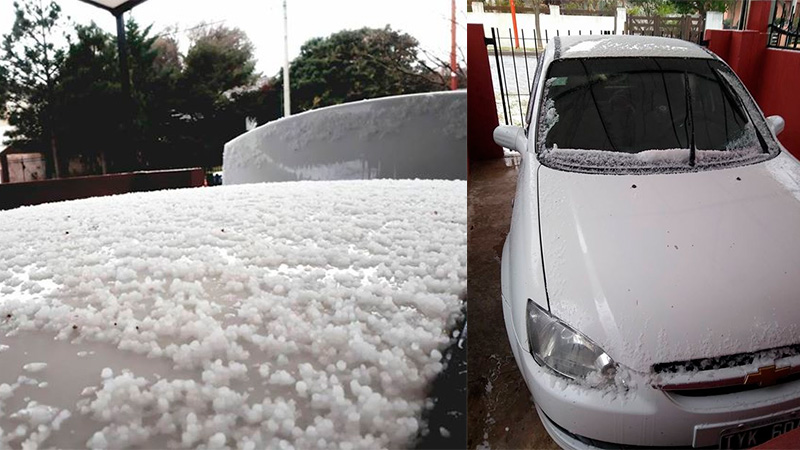 From the office they defined the graup as "very small non-destructive hail" and indicated that it manifested itself in the south and middle of the province. Several porteños uploaded photos on their social networks with a description of the existence of "sleet" while it was in fact a greyhound, according to the description of the SMN.
THE CLIMATE IS LOCO #SuperligaxFOX | In the previous snow fell on the field while the sun was clattering and the rainbow came out. pic.twitter.com/rc6au7VV68

– FOX Sports Argentina (@FOXSportsArg) 19 August 2018
"Raindrops freeze and form a small soft ice the size of a grain of rice or a pea who is disarmed when touched, "she added in the SMN.
In Monte Hermoso, Buenos Aires, #Argentina fell #graupel (very small non-destructive hail) August 19, 2018 pic.twitter.com/sUOlffKnVk [19659005] – With Uy Station bcp (@Estacion_bcp) 19 August 2018
Water snow in Saladillo !!!! pic.twitter.com/apF6vmUVfh

– Leandro Daniel Airoldi (@AiroldiLeandro) 19 August 2018
Sunday cold, with drizzle and water snow in Tres Arroyos – https: / /t.co/jVhXo1c1jy pic.twitter.com/XUMAbdhKfh

– Radio Tres Arroyos (@ LU24TresArroyos) August 19, 2018
About 11 On the morning of this Sunday Villa Serrana residents were surprised by the fall of aguanievehttps: //t.co/FvVmRxEqRb

– Telemundo (@TelemundoUY) 19 August 2018
] var magnificPopup = $ .magnificPopup.instance;
(function (d, s, id, twid) {
var js, fjs = d.getElementsByTagName (s) [0];
// fb + often if (! d.getElementById (id)) { js = d.createElement (en); js.id = id; js.src = "http://connect.facebook.net/en_LA/sdk.js#xfbml=1&version=v2.0&appId=696163903740665"; fjs.parentNode.insertBefore (js, fjs); }
// +1 js = d.createElement (en); js.src = & # 39; https: //apis.google.com/js/plusone.js&#39 ;; fjs.parentNode.insertBefore (js, fjs);
// tweet if (! d.getElementById (twid)) { js = d.createElement (en); js.id = twid; js.src = "http://platform.twitter.com/widgets.js"; fjs.parentNode.insertBefore (js, fjs); }
} (document, & # 39; script & # 39 ;, & # 39; facebook-jssdk & # 39 ;, & # 39; twitter-wjs & # 39;));
Source link