August 22, 2018 – 09:51
The 4.1º earthquake was recorded at 5.41 this morning.
A vibration of 4.1 on the Richter scale hit San Pedro de Jujuy around 5.41 this morning. The epicenter was superficial and was only 24 km deep so that it could be observed in nearby towns such as Ledesma and San Salvador. Also in some cities in the north of Salta.
So far no significant damage has been reported, but the shock caused a warning among early birds. According to data from the National Institute of Seismic Prevention, the epicenter was incorporated in 41 km east of San Salvador de Jujuy; 92 km northwest of the city of Salta and 10 km northwest of San Pedro de Jujuy.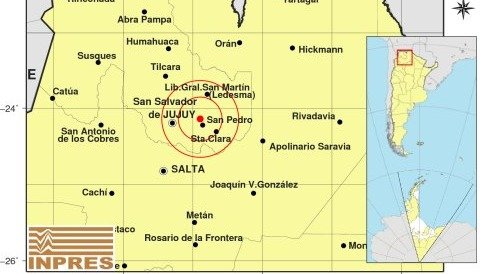 In Salta
The waves of the earthquake in Jujuy were also felt in Salta, where there were also more moderate tremors in the early hours of today. In the neighborhood of Tolar Grande, the movement took place at 2.11 and was 3º on the Richter scale.
Earlier, before midnight, another quake occurred in the department of Los Andes and it was 3.4º.
It is worth remembering that seismic activity is constant in the so-called Los Andes triangle, located between Tolar Grande, San Antonio de los Cobres and the city of Cátua in Jujuy.
Source link