The first voice of the campaign of the 7 natural Argentine wonders culminated. The preselection took place at 400 destinations in the country, and of the 77 that were left as pre-finalists, there are five in the province of Buenos Aires.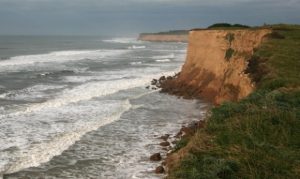 The cliffs and beaches of Mar del Plata, the beach of Monte Hermoso, the game reserve Ñanduces, the Paraná Delta (Tigre) and the plains of the plains of Buenos Aires will compete with other wonders from all over the country. Now a panel of experts selects the 24 destinations that will reach the final stage.
Monte Hermoso
The beaches of Monte Hermoso are distinguished by their beauty and because of the geographical location (from east to west), making it the only one in the country where the sun rises and sets in the sea, visitors can stay here for more time without cones of shadows.
Mar del Plata
The beaches of Mar Del Plata are the most popular in the country, because it is the favorite holiday destination for families. The maritime coastline of the city extends over more than 28 km. The most colorful beaches are those in the south that are characterized by ruggedness and large cliffs.
Ñanduces Wildlife Refuge
Los Ñanduces Wildlife Refuge is located in the General Lavalle district of Buenos Aires and extends over 4816 hectares. It is a private reserve with the aim of preserving the pampa environment of grassland, marshes and logs, while promoting and developing sustainable livestock activities in natural pastures and educational and environmental expansion activities.
Plain of the Pampas & # 39; s
It is a destination that does not have such a delimited location, but can be seen in all rural areas of the region and can also be found in a part of Santa Fe, Entre Ríos, La Pampa and Córdoba. The big star is undoubtedly the ombú, the indigenous tree.
Delta of Paraná
The Paraná Delta is home to a unique biodiversity and a special lifestyle, making it an indispensable tourist attraction. The name refers to the way this river of sedimentary water enters the Río de la Plata, thus giving life to a series of islands and streams that form an infinite labyrinth that gathers thousands of visitors per day of the year. (InfoGEI)
Source link