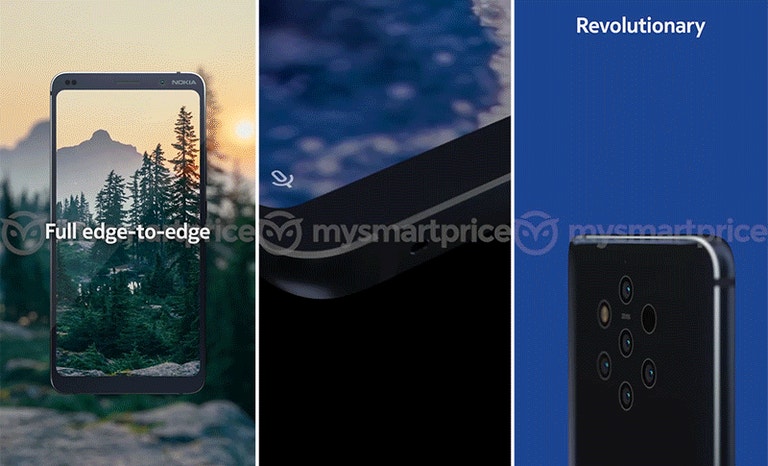 Speculation about Nokia's next flagship phone turned this fall after leaks revealed a wild-looking rear-camera setup complete with five separate lenses. Nokia seems not quite ready to release official details about the rumors Nokia 9 PureView, but a new, high resolution video shows why it would be the first remarkable smartphone of 2019.
Discovered by MySmartPrice and also posted by @evleaks, this new leak seems to be a promotion clip made by Nokia. It contains detailed renderers that once again show a hexagonal layout of the back of the camera with five lenses, a flash and a still unknown sixth sensor, making the phone photo's at once with all five cams could make. This allows users to adjust the focus of a particular photo long after it is created.
But what's more interesting is all the other little things about the Nokia 9 that shows this video. Borrow a bit from the design of the Nokia 8 Sirocco, the Nokia 9 will apparently have a glass sandwich design with subtly rounded sides, similar to a Samsung Galaxy S8 or S9. Unlike the Nokia 7.1, however, there does not seem to be a notch, or even a real attempt to implement a complete borderless design like many other modern handsets, which is actually a bit refreshing.
Instead, the Nokia 9 seems to have small but balanced edges at the top and bottom, double selfie cams and a kind of indicator light. Unfortunately, although there seems to be a lot of space on his chin, the Nokia 9 apparently does not use that space to stick to a second front-facing speaker.
In addition, the Nokia 9 can also join other Nokia phones as part of Google's Android One program, which means that the phone would have sportsstock out of the box and software updates would have been managed directly by Google – good news for everyone who is looking for escape from the lethargic update cycle of Samsung, LG and others.
Nokia 9 PureView "Beholder." HNY pic.twitter.com/x4Kh3anP46

– Evan Blass (@evleaks) December 31, 2018
Additional specifications for the Nokia 9 PureView include a 15 cm 2K HDR10 screen, Qualcomm Snapdragon 845 chipset, 6 GB RAM, 128 GB storage capacity and Zeiss lens, which apparently work together with all those sensors to get the Nokia 9 together "10x more light" compared to a normal camera sensor of a smartphone. And in a somewhat small but welcome upgrade, it seems that the Nokia 9 will even have a fingerprint sensor in the display instead of the traditional rear-mounted reader of the company.
But the biggest surprise is that MySmartPrice, instead of waiting to launch the Nokia 9 on MWC 2019 at the end of February, claims that Nokia is trying to come out with a debut for the other phone manufacturers before the end of January, although there is no word about it. when the Nokia 9 could actually go on sale.
If Nokia can do it right – between its five rear camera's (two more than what you get on the LG V40 and Huawei Mate 20 Pro), stock Android and solid specifications – the Nokia 9 could eventually offer a nice mix between far away camera technology and a less thirsty, trendy design.
[MySmartPrice]
Source link