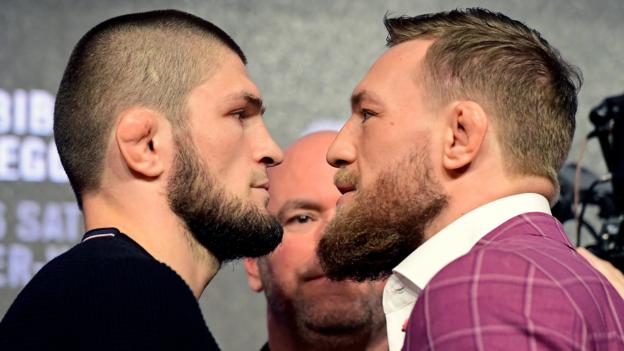 "This is Conor's world, can Khabib survive in it when no-one else can?"
Conor McGregor returns to the octagon for the first time in almost two years at UFC 229 in Las Vegas on 6 October – against Russia's undefeated UFC lightweight champion Khabib Nurmagomedov.
And if the Irishman's news conference in New York last week is anything to go by, it is going to be lively.
The BBC MMA Show's former UFC fighter Dan Hardy and journalist Nick Peet look at what to expect from fight week.
Atmosphere – 'It will be an absolute circus'
Nick Peet: We got a little taste last week in that press conference in New York. We will get Conor McGregor at 100% and Khabib better be ready because there is no fight in his entire career like a fight with Conor McGregor.
Conor has transcended the sport. Conor's fans live in all parts of the world, and even though there may not be the same number of flights going over from Ireland specifically for the fight, the Irish will turn out in force and the Conor McGregor fans will turn out in force.
Every casino will have billboards, every casino will have tables recanvassed with Conor v Khabib. All the chips will have Conor's face on or Khabib's face on. There is nothing quite like fight week in Vegas.
Dan Hardy: I think McGregor is playing a game here and he is going to fully invest in it during fight week and it should be quite entertaining. The thing people will notice as soon as they get off the plane will be the buzz in the city. There are going to be a lot of fans there on both sides, and it is just going to be a celebration all week. There are going to be flags everywhere.
McGregor playing the bad guy
NP: We love an underdog story, we loved Conor's journey to the top – this guy that was on the dole who had journeyed all the way there.
But you lose that element when you are riding around in limousines and private jets and wearing Gucci clothing. You are no longer relating to the common man. People can't relate to you anymore.
The way Conor's mind works is that as long as you are watching, as long as you are paying your pay-per-view or your money to sit in a seat, whether you want me to win or you want me to lose, it all ends up in my bank account.
He understands fight sports better than anybody in this generation – what sells and what does not sell.
He is kind of playing the bad guy in this one. That was evident in New York at the press conference. He let Khabib be quiet, misunderstood, lost in translation, and he was going to be outlandish.
DH: It is what draws people to Conor McGregor, because he is polarising.
In this day and age you have to be extreme. I think he learned a lot from the Floyd Mayweather fight. I think he realised that there is a lot of money to be made from people wanting to see you lose.
He brings every facet of the sport and more because he has an incredible handle on social media, and what an incredible marketing tool [that is] for this generation.
He is on the ball so much and he is bringing these two worlds together, and that is what has made his an absolute global superstar.
Technically, he is probably not even a top-10 mixed martial artist of all time, but in the history of this sport he will probably go down as the greatest of all time because he has brought so many eyeballs and he has generated so much cash.
But can Khabib handle it?
DH: What happens now is psychological warfare. How can Khabib handle the Conor McGregor circus when so many others have fallen apart?
This week is going to be Conor McGregor's world. Can Khabib survive in Conor's world when no-one else can? Conor does just not walk into these things blindly, he goes to every media engagement with an agenda.
I think Khabib is fascinating and his approach to the fight game is very interesting because it is the opposite end of the spectrum to Conor.
NP: Khabib can be a megastar if he wins, certainly back home in Russia where he is already a superstar.
And if he beats Conor it would not surprise me if they rematch straight away. Khabib-Conor 2 in Russia if Khabib is successful, I think does incredible numbers.
What are you most looking forward to in fight week?
DH: Conor is notorious for doing unusual things at the open workouts.
We are always interested to see what Conor has been doing, what he has added to his game, what he is willing to show the fans.
And then the same with Khabib. If Khabib comes in and does nothing but pad work, I think that will be a very interesting mindset to put forward to Conor.
Conor has to be limited with his clothes choices with the temperature. He might just be rocking up in his shorts like he usually does when it is a warm climate.
NP: I am going to go for the white, full-length mink coat!
Source link