© Sports report
Austrian Barbara Haas loses her opening match at the Upper Austrian Ladies Linz 2020 against Veronika Kudermetova 0: 6, 0: 6.
That was not Barbara Haas' day! Austria's number one had no chance of their Upper Austria Ladies Linz home tournament against Russia's Veronika Kudermetova and had to forget about the Linz TipsArena with a 6-0, 6-0 defeat in the baggage.
'I am just disappointed. That was a bad day at work, "Haas summarized. 'I think that was the last thing that happened to me when I was young. But something like that can always happen. I could hardly match my performance in my last game against them in Brisbane. It was just a pitch black day. In the end it was definitely a combination of several things. I will now try to get the positive out of the season. Unfortunately, there was not much positive today. But there are certainly worse things in life, because you have to leave the church in the village, "the local hero analyzed.
Veronika Kudermetova will take on the Dutch Arantxa Rus on Thursday in the round of 16. "The circumstances here suit me very well. I have tried to do my best and I think I have done well. I didn't really have high expectations and I came here without a coach. Let's see what else is possible, "said Kudermetova.
Before that, qualifying match Oceane Dodin from France and the Argentinian French Open semi-finalist Nadia Podoroska had already reached the second round. After a false start, Dodin fought back into the game against Swiss Jill Teichmann and won 1: 6, 6: 4, 6: 2. "The first set didn't even last 20 minutes, but after that it got better and better. I really enjoy playing here in Linz. I can usually play my best tennis indoors, "said Dodin, who, just like in 2016, will meet Sorana Cirstea in the round of 16. At that point, the French woman was able to assert herself in two sentences.
After an hour and 43 minutes, Nadia Podoroska celebrated a hard-fought 6-4, 6-4 victory over Irina Camelia Begu from Romania and thus enjoyed a successful Linz premiere. A real Linz specialist is now waiting for her: on Thursday she will play against Camila Giorgi, who triumphed in the TipsArena in 2018.
The first quarter-finalists have been determined
Barbora Krejcikova (Czech Republic) and Aliaksandra Sasnovich from Belarus already bought their ticket for the quarterfinals on Wednesday after tough duels of three sets at Matchourt 1. Krejcikova beat Gret Minnen from Belgium with 5: 7, 7: 6 (7) and 6 : 4, Sasnovich beat Croatian qualifier Jana Fett with 3: 6, 6: 1, 6: 3.
The two-headed Belgian Elise Mertens and Ekaterina Alexandrova, who is fourth on the placement list, also showed no nudity. Mertens needed a set to adapt to the game of Ukrainian qualifier Anhelina Kalinina, but after two hours and five minutes, she turned her first match point to 2: 6, 6: 1, 6: 2. In a very attractive round of 16, she will take on the experienced Vera Zvonareva on Thursday.
Linz enthusiast Ekaterina Alexandrova is already a step further. In the evening she held up 7: 5, 6: 1 in the Russian game against Varvara Gracheva, is in the quarter-finals of Linz for the third time and made a declaration of love for the city after the game: "I just love to play here. I like the city very much. It is a real shame that we are not allowed to go outside this time. I just love everything about Linz. Maybe that's why I play so well here. "
Barbora Krejcikova (Czech Republic) and Aliaksandra Sasnovich from Belarus also bought 1 ticket for the eighth finals on Wednesday after tough duels of three sets on the match field. Krejcikova beat Gret Minnen from Belgium with 5: 7, 7: 6 (7) and 6: 4, Sasnovich beat Croatian qualifier Jana Fett with 3: 6, 6: 1, 6: 3.
Sabalenka will meet Stefanie Vögele on Thursday
The best placed Aryna Sabalenka also wants to follow on Thursday. The number eleven in the world will take on Swiss qualifier Stefanie Geefele in the third game of the day.
---
"This first-class event puts an exclamation mark"
Linz Mayor Klaus Luger and Vice Mayor Karin Hörzing visit the Upper Austrian ladies Linz
Important visitors at the 30th anniversary of the Upper Austrian Ladies Linz! Linz Mayor Klaus Luger and Vice Mayor Karin Hörzing watched the anniversary edition of Austria's largest women's sports event on Wednesday afternoon and wrote in an interview with tournament director Sandra Reichel the importance of Linz's tennis classic.
"30 years of Upper Austria Ladies Linz cannot be taken for granted. This first-class event is an exclamation point for the city of Linz, the state of Upper Austria and Austrian women's tennis. I congratulate that we managed to organize the anniversary tournament during this difficult time. I am very happy with that, "said Vice Mayor Karin Hörzing.
Mayor Klaus Luger once again emphasized the worldwide appeal of the event: "In this tournament week, Linz has an international focus, we have a permanent presence in the media. Apart from a few international football matches, there is no other event like this. As for the sport, this tournament is number one. Thank the organizer for enduring 30 years and enriching the city and the country. During this time a lot was experienced and a lot was celebrated. We can be proud of that, "said Luger and congratulated tournament director Sandra Reichel, who immediately returned the flowers to the city.
"We are only here today because the city of Linz had the courage to support us 30 years ago. My father dared to do it in the early nineties, "said Reichel, who this year celebrates her twentieth birthday as tournament director." You have to thank the city for their trust and support. We already had our thoughts in March and we have always agreed that the tournament will take place in Linz if we can guarantee the safety of everyone involved. The city of Linz is behind us, the state of Upper Austria and many other loyal partners are behind us, "said Reichel, explaining the current situation.
Mayor Luger wished the tournament for the future, "that Linz can continue to play this role on the WTA tournament calendar, that the organizers can continue to work so successfully and above all I hope that we will all play the tournament together again next year. the hall. "
As a farewell, Sandra Reichel also had a small gift ready for Karin Hörzing and Klaus Luger. Mayor and Vice Mayor presented a bottle of the anniversary wine (Grüner Veltiner), which was exclusively produced by the Mayer Der Wein estate on the occasion of the 30th anniversary of Upper Austria Ladies Linz.
Presseinfo Upper Austrian ladies Linz
Upper Austrian Ladies Linz – Schedule Thursday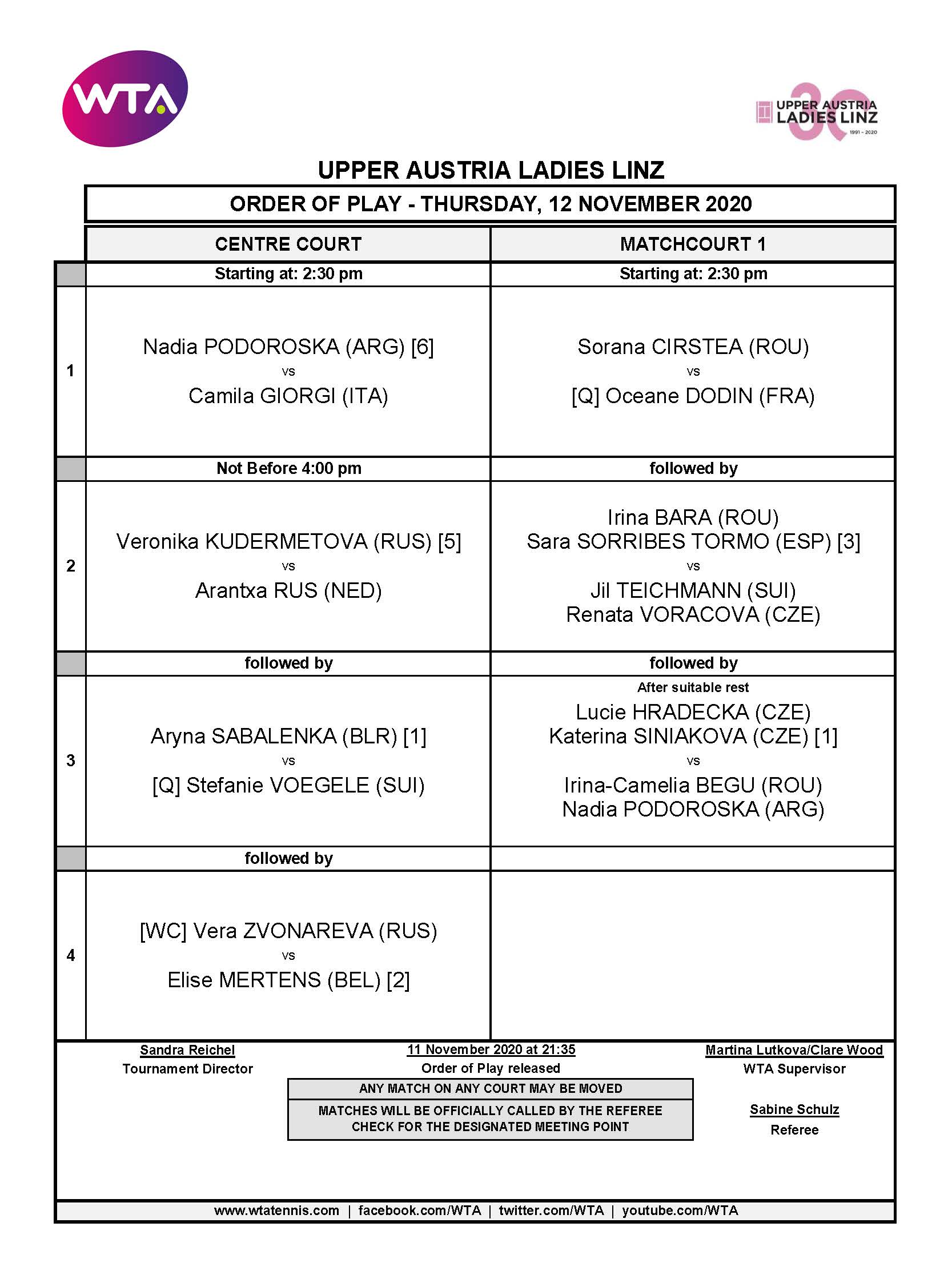 11.11.2020
Source link