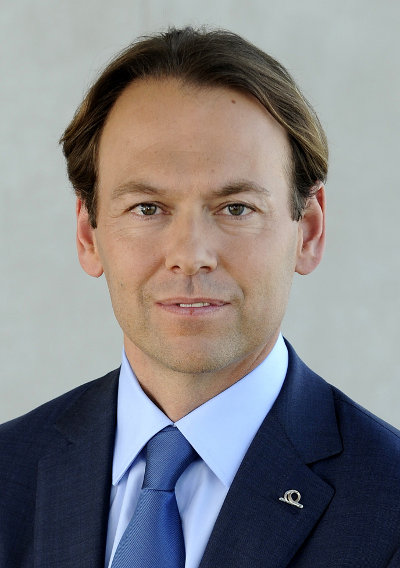 23.8.2018 – Uniqa's premium income was almost as high in the first half of the year as in the previous year. The significantly higher insurance benefits were compensated by higher investment income, which benefited from the sale of Casino Austria shares. For the full year, the insurer wants to increase the result.
CEO Andreas Brandstetter
(Image: Uniqa)
A solid growth in recurring premiums and a higher investment result contributed to the strong profit increase, writes CEO Andreas Brandstetter in the half-yearly financial report of Uniqa Insurance Group AG.
Although written premiums, including the savings portion of unit and index-linked life insurance, remained largely unchanged, recurring premiums increased 3.1 percent to € 2,738.6 million year-on-year.
The volume of single-premium policies in life insurance policies has fallen considerably: from 142.6 million euros in the first half of 2017 to 59.8 million. This decrease of 58.1 percent is "in line with strategy", according to Uniqa in the semi-annual report.
The insurance group recorded increases in premiums in the field of property and accident insurance (+4.5 percent) and health insurance (+5.1 percent).
Higher insurance benefits
Significantly higher expenses were booked by Uniqa for insurance benefits; overall, before taking into account reinsurance, they increased by 6.8 percent to 1,898.3 million euros; Withheld, they increased by five percent to 1,836.7 million.
Higher major losses and provisions for expected loss events, especially for bad weather, led to an increase of 3.8% in insurance benefits in property and casualty insurance to € 847.6 million. The claims ratio rose from 65.1 to 66.2 percent, while the combined ratio after reinsurance deteriorated from 96.8 to 97.1 percent.
As a result of higher premium costs, health insurance insurance benefits increased by 5.7 percent to 460.5 million euros. There were also higher insurance benefits in life insurance; This was due to positive one-off effects in the previous year. The increase here was 6.3 percent to 497.0 million euros.
Casino sale results in big wins
The improvement of the investment result by 23.7 percent to EUR 288.9 million was mainly due to the sale of the (indirect) interest in Casino Austria AG in the first quarter. The capital gain was 47.4 million euros.
Although the investment in the Strabag building group had a positive effect of EUR 2.2 million this year (same period last year: EUR -10.3 million), the investment result was taxed by currency effects of EUR 22 million.
The increase in investment income more than compensated for the drop in the insurance result (by 28.2 percent to € 51.5 million).
The disproportionate rise in profit for the period is due to the fact that this item was taxed by the sale of Italian group companies in the previous year of € 33.4 million.
Doing business in Austria
Uniqa Austria increased its premiums by two percent in the first half of the year. As mentioned in the semi-annual report, sustained growth of motor and real estate insurance led to a premium growth of property and accident insurance of 4.5 percent to € 931.7 million.
Uniqa Austria also recorded premium growth in health insurance, while premiums for life insurance policies fell due to lower current premiums. In this country, however, the single premiums have grown: by 2.3 percent to 15.7 million euros.
Despite higher insurance benefits, the combined ratio in Austria improved to 92.1 percent, compared to 93.4 percent a year earlier. A better investment result ultimately led to an increase in the profit before tax from 30 percent to 111.4 million euros.
perspective
For the full year, the total premium volume is expected to fall by one percent. There will be growth in health insurance and non-life insurance policies and the premiums for life insurance policies are expected to fall.
Reasons for this are, on the one hand, according to Uniqa "deliberate reduction of single-premium policies, especially in Central and Eastern Europe", as well as the "continuing deterioration of traditional life insurance policies in Austria".
In terms of results, Uniqa expects IT investments to be a burden. The combined ratio after reinsurance needs to be improved compared to 2017. In general, the insurance group expects the pre-tax profit 2018 to improve again. Also planned are "continuously" increasing dividend payments.
A precondition for this is that there are no extraordinary negative developments and that large losses caused by natural disasters remain within the average range.
Uniqa Insurance Group 1st half 2018 – selected key figures

measure

H1 2018

H1 2017

Gross written premiums

– of which Austria

2,798.4

1,970.1

2,798.6

1,930.7

Underwriting result

51.5

71.7

Combined ratio

97.1%

96.8%

investments

19.789.2

19,684.4

The investment income

288.9

233.5

Operating result

167.5

125.3

fairness

2,989.0

3,177.6

net profit

111.2

42.3

the total assets

28,802.2

28,697.1
To download
The Half-year Report 2018 can be downloaded as a PDF document (336 KB) from the Uniqa website.
Source link