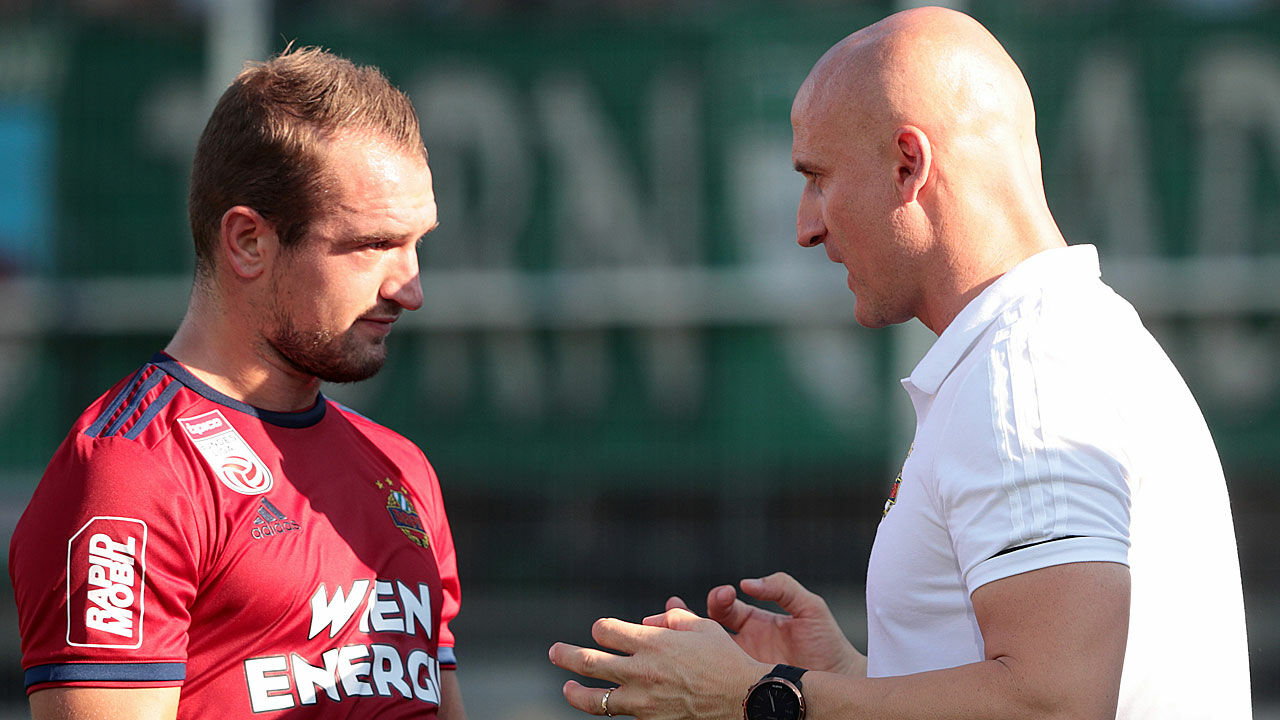 The next silencer after the liberation strike.
Rapid was unable to remove the momentum of the 4-0 triumph in the EL qualifier against Slovan Bratislava and was beaten 2-1 at the LASK – the third winless league game. Match in a row for the Hütteldorfer.
Striking: it was a defeat, which was classified very differently by the green and white protagonists.
Goalkeeper Veton Berisha chose rather harsh words: "That's too little Little football, maybe we were a bit tired, but LASK also played Thursday, played well in the Europa League and played badly in the league – we can not do that , we were not there from the beginning, we kick a little, we have a few good actions, but are not where we should be and where we want to be. "
Not a bad performance for Djuricin
Coach Goran Djuricin , on the other hand, left the medial reference to a bad L
"That's not true, it was not so good Today was good," said the 43-year-old, "there was dedication there, there was courage of the whole team, we have given everything, we can not play very well every week and we played against a very good LASK. "
However, the coach also did not praise the disappointing performance in the first half, but Rapid was sometimes better after the break. "We made really bad decisions in our offensive actions, but came back after the shortage, but defended badly in the 1: 2. We slept there for a short time, we were probably facing 2-1 because we really wanted to win Normally you have to go home with one point. "
Muted
The objection that a draw would be a lucky one given the good LASK odds was denied by Djuricin:
" The LASK has Besiktas 2-1 I think their media live in a completely different world and think we should cross the LASK. "

Goran Djuricin
" The LASK beat Besiktas 2-1, I think your media is in a very different way The world has a very strong team that is likely to surprise even more than last year, as I said, the courage was there, the mission was there, and I expected that we would have to go through the LASK. have to rotate and that maybe one or two kee r would be a damper for us. "
For Mario Sonnleitner too," an X was just ", and the central defender also pointed to the next loss of the quality of the LASK:
" You have to defeat Altach and WAC at home, but you can lose in Linz . This is a good team that has dominated Besiktas. You have to leave the church in the village. We have all done it all. We have not succeeded as well as in the previous game and of course we know that we still have to improve. "
Problems with LASK Victory
Green-white tends to win in both phases of the game, both offensive and defensive." We do not develop sufficient opportunities. That is a bit of a problem, we have to create more. I think the LASK has had more chances than the last week of the WAC, that should not happen to us, "complained Deni Alar.
Sonnleitner remembered that the goals of a long shot and a standard situation resulted in
Tipico -sport betting – now 100 € for new customer bonus!
Goalkeeper Richard Strebinger especially irritated the second and less the shot of a thousand rams from Christian Ramsebner on the Linzer goals: "It is of course difficult, to the standard after a defended ball at but we really have to make sure it does not get so close. At the first goal I do not think he will hit the 30 meter again. One can only say: congratulations! But that will not happen that often. "
Last but not least, the table says that Rapid should not lose too many points in the upcoming rounds and after four rounds they are already seven points behind Salzburg against the rising star Wacker Innsbruck has to be called as a mandatory victory.
Salzburg has shown how to rotate
However, the next European League task is on the program and so far it can not be said that the Viennese Double charged with bravado, which brings us to the subject of rotation.
"We want that! We want to go to the Europa League and it is normal that you have to rotate. We have to be able to catch that. We will do everything we can to do this better, "Strebinger said and emphasized:" Salzburg did it last year. "
However, when the" bulls "picked up new strengths from the bank, the loss of quality was usually lower. It is not unusual for relatively inexperienced forces like Aleksandar Kostic or Manuel Martic to be unable to play leading players such as Thomas Murg or Stefan Schwab
. replaced by Djuricin who defends the pair: "We played against the LASK, which played with a lot. It is not easy for Kostic, but he had three, four really good actions. Martic was also much better than against the WAC. "
Djuricin vehemently defends the rotation
Even more violently defends the Rapid coach he even turns, even if the loss of quality is difficult to intercept and the processes would not be 100 percent:
" There are already stages been in Rapid, where there was no rotation and where a few were seriously injured. I just do not want to risk that. We have a good team and everyone should have their chance. "
And ideally use it better before the backlog becomes too big at the front." Of course we now have to look to get on track and in the championship Djuricin repeated.
The days before the return match against Slovan were not easy for the Rapid coach, whether he feared that the conversation now starts all over again, cost him a Schmunzler:
"Critical voices were there from the first day, that's nothing new to me. "
Source: © LAOLA1.at
Once again no storm victory: Why Heiko Vogel remains patient
Up » More about COMMENT_COUNT Comments
Legal notice:
The comments from the users are not necessarily more important reject the opinion of the LAOLA1 editors. LAOLA1 reserves
to delete comments without giving a reason, especially if these are criminal or civil law standards
violate morality or otherwise conflict with LAOLA1's reputation. We refer to
this context in particular with regard to our conditions of use. The user can not synonym in such cases
Claim claims. In addition, LAOLA1 Multimedia GmbH reserves the right to claim damages
offenses and relevant facts.
Source link