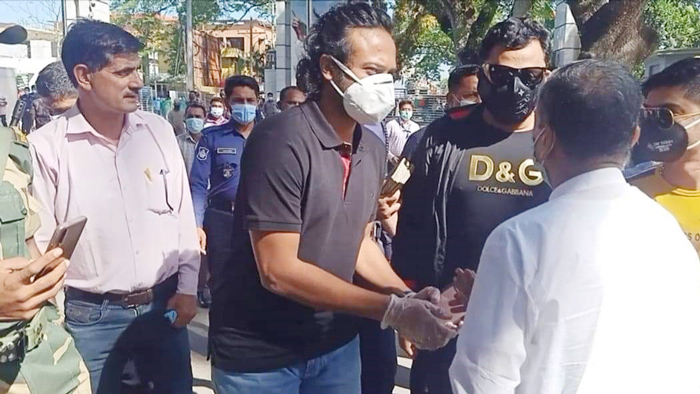 World-class all-rounder Shakib Al Hasan will inaugurate Kali Puja at a puja mandapa in Kolkata on Thursday evening (Nov. 12). That is why Shakib went to India today at around 1 pm via Benapole International Check Post.
Before leaving for India, Tiger also made a courtesy appeal to Customs Commissioner Azizur Rahman at the Benapole Customs House. Additional customs commissioner at the time. Md. Neyamul Islam was present.
After staying there for a while, Shakib left for India through the Benapole checkpoint immigration. Hundreds of local media personnel and cricket fans were in attendance at the time, but the world's best star did not speak to them. At that time, strict security measures were taken at the checkpoint.
Paresh Pal, the organizer of the puja mandap in Kolkata, said Shakib would arrive in Kolkata from Dhaka on Thursday (Nov. 12). He will return to Dhaka after dedicating the puja in the evening. Organizer Paresh Pal also said the Indian embassy had issued visas to the world's best all-rounder during this period without any problems.
Shakib Al Hasan has recently returned from a one-year ban. The world's best all-rounder in one-day cricket returns to cricket at the upcoming Bangabandhu T20 tournament. It should be noted that Shakib is very popular in both India and Kolkata due to playing for Kolkata in IPL.
NS /
Source link