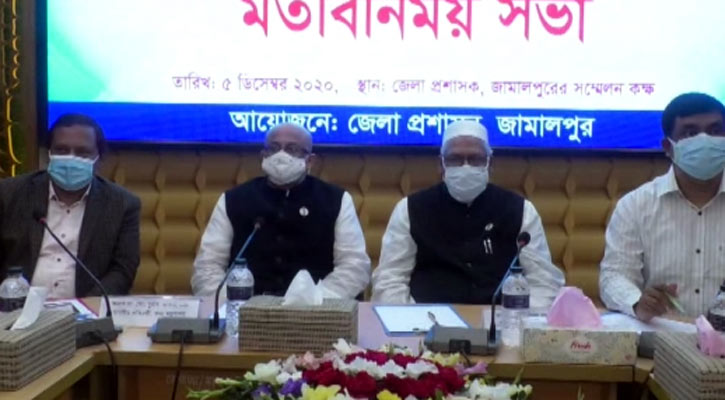 Jamalpur: Discussions are underway on the sculpture, with a resolution within a week, said Faridul Haque Khan, the minister of state for religion. The prime minister told reporters after exchanging greetings with leaders and activists from Awami League and various organizations at the Jamalpur Circuit House on Saturday (December) at noon.
Religion Minister Faridul Haque Khan said talks are underway on the sculpture, which will be resolved within a week. Bangladesh is not doing any work to keep the stamp of communalism. The Ministry of Religion is taking action for what needs to be done for a secular Bangladesh. The Ministry of Religion believes that the problem with the sculpture is completely resolved within a week.
Later, the Minister of State took part in an exchange of views in the meeting room of the Deputy Commissioner. Deputy Commissioner Mohammad Enamul Haque chaired the position.
The meeting was attended by Minister of State for Information Murad Hasan, Member of Parliament from Jamalpur-3 constituency and Awami League organizing secretary Mirza Azam, Member of Parliament from Jamalpur-5 (Sadar) constituency Mozaffar Hossain, District Inspector of Police (SP) Md. Delwar Hossain, Chairman of the District Council Faruk Ahmed Chowdhury, District President of Awami League Muhammad Baki Billah, President of Jamalpur Press Club Hafiz Raihan and others.
Following the exchange, Minister of Religion Faridul Haque attended a public reception in his Islampur constituency.
Bangladesh time: 2024 hours, Dec 5, 2020
AAT
No news, information, images, photos, diagrams, videos, audio content published / distributed by banglanews24.com may be used without prior permission under the Copyright Act.
Source link