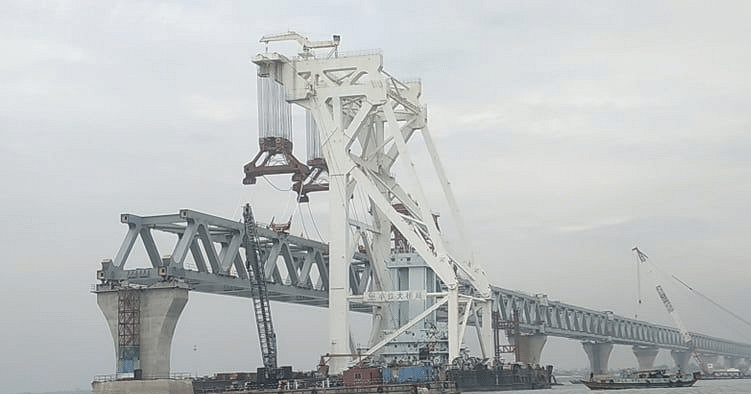 The 39th span (2-D) is placed on pillars 10 and 11 at the Mawa end of Padma Bridge in Munshiganj. This makes 5,650 km of the bridge visible. The span was installed on Friday at 12:20 pm.
This span was installed 7 days after the installation of the 38th span. Only two spans remained visible to reveal the entire bridge. The 36th span was placed on the 1st and 2nd posts on the Mawa side on November 21.
Padma Bridge Executive Engineer (main bridge) Dewan. Abdul Quader told Prothom Alo that the floating crane Tiain-e departed Kumarbhog Construction Yard at 9:05 am Friday with the 39th span of 150 meters to the designated pole. The span reaches those two poles in the center of the Padma in a short time. The span was placed on the same day because there was no technical problem. The 40th period takes place at the 11th and 12th poles on December 6 or 7. The following span has been completed at two of Mawa's construction sites.
Meanwhile, 2,917 roadway plates are needed for the construction of the Padma Bridge. Of these, more than 1,165 road plates were installed on October 31. In addition, 2,959 track slabs will be installed. Of these, 1,648 have been installed so far.
Source link