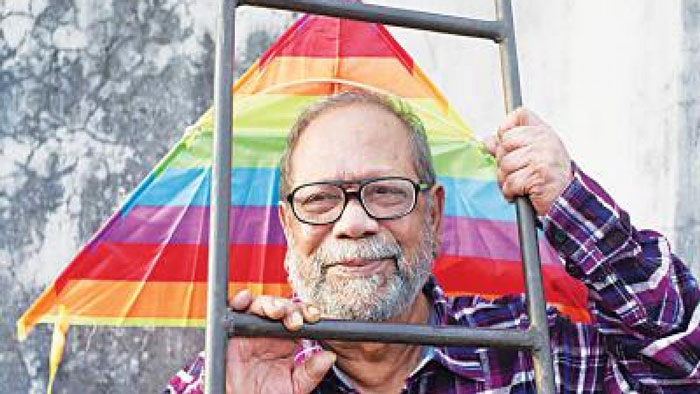 Today is Friday, August 17, the 87th birthday of artist Mortuza Bashir. Dr. Dr. Muhammad Shaheedullah and mother, the 9 boys and girls of Maruga Khatun, were born in 1932 to the smallest of them. He is a freedom fighter. He had to leave the country because of his participation in the liberation war. On this occasion, on the occasion of his birthday, various aspects of life in this language are emphasized for Ekushey TV online reader.
How are you?
Mortaza Bashir: I'm fine. There is no physical illness. Pacemaker placement in the heart The lungs become weak Only the shortage of oxygen decreases. If you talk, work or make a drawing, press the lungs. Then the oxygen decreases. The doctor told me to take oxygen at 7-8 hours in 24 hours. I am always the Early Rizer. We got up from 6 o'clock in the morning. Sleep at 6 o'clock, but lie down. Initially the oxygen level of the body is seen by the pulse oximeter. When I was less than eight to eight, I took oxygen on the bed. Occasionally the nebulizer must also pay. Go out of bed at eight o'clock. Fresh snack at breakfast nine. Never eat breakfast bread once made bread is sometimes a bread With egg sauce or omelette. I do not like fried food. Then tea Green tea Green tea has been drunk for the last 30 years. I ate a lot of cigarettes at once. Did not give up eating since 2013. Doctor prevention Alcohol does not eat too much. Although there is no restriction for the doctor.
How is the time spent?
Mortaza Bashir: Stay home. Almost all friends have left. Shamsur Rahman, Kamrul Hasan, Saeed Ahmed, Aminul Islam are my friends. My two daughters are one son. The children are busy with their lives. Only the big girl is in the neighborhood. The little girl is in Chittagong, the banker. The boy worked on the couch. But he is frustrated about the country. America wants to go Both of us, me and my wife live at home. My wife is ill He has been in the spotlight for so long. The boys daughter is all in the family. Now he has to see it.
Does the child suffer from being a painter like a father? Mortaza Bashir: No. Children do not draw anyone. The little girl wanted it. I did not encourage it. The life of the painter is a big problem. I did not want my children to do this.
Your father did not want you to choose the life at a distance from the artists. Mortaza Bashir: In my youth I thought I would be an artist. Communist Party wanted to be admitted to Art College. My father also said that I found the artist's life very difficult in Paris. I do not want my son to get through those problems. Later, however, he agreed. I went to Italy to pay my father's money. From 1956 to 58 I was in Florence in Italy. My father really wanted me to go to Europe.
Does the artist occupy the color, not the color above the artist?
Mortaza Bashir: Yes. My wife says a word, I'm like a camel or a lot. If I do not work, I do not do it at all. When I work again, forget to eat and drink. Maybe it works for a month or two months. Usually I have never painted the photo's at night. I did not take pictures, even if I was alcoholic. I have seen abroad, in our country, many artists painted drinks. Whiskey, vodka, jine draws photos to eat. But never take pictures of alcohol influenza. Making a drawing is like a prayer for me. I wake up in the morning, take a bath, cut a beard, do the rest of the lotion, put perfume on the body. To be absolutely pure, I'm taking pictures. Just up to nine. Then go to breakfast.
What happens when no painting is done?
Mortaza Bashir: No. Then think what to draw. When there is a story, when Leonardo Vinci is invited to sign The Last Supper, he says he will sign, but he does not paint. Turned back, but not drawn. Other interested artists complained to Duke, which was conceived by an artist, he does not work 24 hours a day. Duke called for VIP and said: why do not you start drawing? When Vinci said that when an artist does not work, that does not work, it does not. Then his brain works. Me too If I do not take the photo, I think. Generally, do not take photos at night, but if you have a best-before date, sign this & # 39; at night. If the date of the exhibition is before, the photo is signed. A pressure job.
Are you an artist in childhood?
Mortaza Bashir: No. I have never dreamed of being an artist since my childhood. Not even thought. It happened in the future. But I liked the painted picture. I did not know it the tenth ago. But do not forget to be ten years old. There were many magazines in my father's library. From Calcutta From different places Those photos are printed in those newspapers. Photographs of famous Indian artists were printed. Encyclopædia Britannica had photos from Europeans in Europe. They were very good to see. At the age of 12 I painted the red-blue pen to see the father's note in the drawing book in the school book.
What is the most important of a teenage age? Mortaza Bashir: On Sunday we had English food at home. On that day we ate with my father in a table chair. Spoon fork, with knife Nappin is nicely made by the mother glass, so that the flowers bloom. Say a story, listen, I'm too short. Then I was not a teenager, I grew up, one day a girl showed me badly and said: What is this tricky shortcoming! That day was very stubborn, I would be special.
Murtaza Bashir: My only novel is the self-proclaimed, the myth of the storytellers. And poetry is personal.
What is the greatest happiness in life? 1945655] Mortaza Bashir: I was with Ekushey. Participating in language movement is the best achievement of my life.
Birthday wishes you.
Mortaza Bashir : Thank you.
TR /
Source link