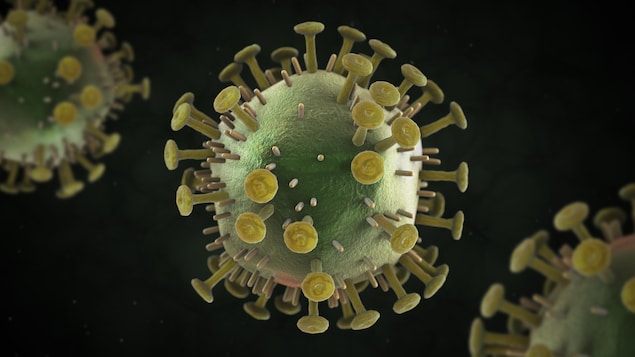 This breakthrough now opens up new perspectives in the fight against the virus.
bandage
In 2015, researcher Andrés Finzi and his colleagues at the Montreal University Hospital Research Center (CRCHUM) announced that they had discovered a mechanism that compared them to a molecular can opener that could open the can of what is HIV to make it. to expose its vulnerable parts.
This mechanism is known as antibody-dependent cell-mediated cytotoxicity (ADCC).
The present works
Today, these scientists explain that thanks to this can opener they are able to use the & # 39; open can & # 39; have been able to visualize that parts of the envelope reveals virus. These regions could potentially be the target of antibodies that are already present in infected individuals, with the ultimate goal of killing the infected cells.
The visualization reveals a previously unknown form of HIV and a very detailed picture of the weaknesses.
Determining the new shape of the viral envelope reveals unique details about HIV vulnerability that could be useful in eradication strategies.
According to Pr Finzi, the next steps are to evaluate whether forcing the adoption of this vulnerable form of the envelope in animal models to eliminate infected cells in vivo.
These investigations are ongoing and have just received funding from the Canadian health research institutes.
Did you know?
7,000 Quebecers have contracted HIV for 10 years.
More than half of them are homosexuals.
25% of HIV-positive Canadians do not know that they have the disease.
Synthetic spies
When the virus infects the cells of the human immune system, it binds with the envelope to certain receptors of these cells, called CD4 and CCR5.
This contact with the CD4 receptor causes changes in the shape of the envelope that allows the virus to infect the host cell.
The current work describes the use of small CD4-like molecules, designed and synthesized at the University of Pennsylvania, to force the virus to open and expose vulnerable parts of the envelope, which can kill the cells of the immune system. infected cells.
See HIV
It is a technology (Förster resonance energy transfer on a few molecules) developed by researchers at Tufts University who have been able to visualize the hitherto unknown form of the viral envelope. Researchers can see how different elements of the envelope move in relation to each other.
This visualization revealed that the HIV envelope has moving parts that make it possible to take different forms in response to different stimuli, such as antibodies or small molecules.
Direct visualization of molecules on the surface of HIV enables us to develop strategies for curing the disease: a dream comes true!
The details of this study have been published in the newspaper Cell Host & Microbe (New window) (in English).
Source link