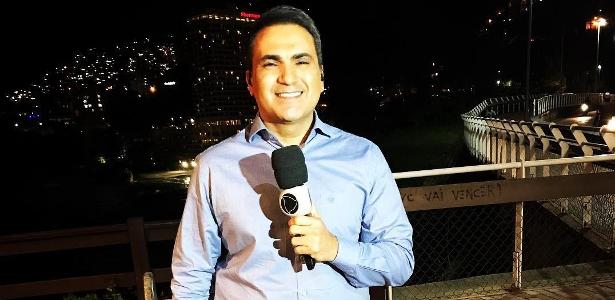 A TV reporter in Rio de Janeiro was hit by a motorcycle awaiting a live access to the local "Alert City" on Thursday evening (30). Dennes Queiroz, 43, was on the sidewalk, near the Rocinha police station, a slum in the south of Rio de Janeiro, where he made notes in the second edition of the newspaper to mention the day of filming the community. As he waited, a car crashed into a motorcycle on the Lagoa-Barra road, passing in front of the favela, and the unruly vehicle hit the right leg of Dennes. He broke his tibia.
"I entered the first link and I would board again, two minutes later everything happened very fast, the driver was hit and, having ten years of experience with a motorcycle, he reacted and fell on the asphalt. UOL. "It goes well, as far as I can, pain and anti-inflammatory drugs, but it burns constantly," Dennes said.
The reporter said he did not see the accident while he was preparing to go live. He heard the motorcyclist shout at the driver who came on the bike and turned around. At that moment the bike hit him.
"It was God's liberation, by speed, by the power of the beat, if I took my head … Thank God [não pegou]"said the reporter.
The cameraman who accompanied Dennes did not record the accident because he was waiting to enter the newspaper live.
Dennes was attended by the fire brigade and an ambulance from the Samu (Emergency Mobile Service). The motorcyclist, who had contracted bruises during the fall, was in the same ambulance.
"He apologized to me, he is unemployed, wallet [de habilitação] overcome and work with the bicycle, "said the reporter, who accepted the motorcyclist's plea for forgiveness.
With 11 years of record house in Rio, Dennes said that he had never suffered an accident during work. What he saw almost seven years ago was the death of cameraman Gelson Domingos da Silva, in the favela of Antares, in the western zone of Rio, which was hit by a gunshot.
"In Rio it is not a bicycle that you think will hit you," he said.
Source link