Youtuber Whindersson Nunes was annoyed by the remark of a fan who criticized a message he did with:before and after"from his body after losing 15 kilos.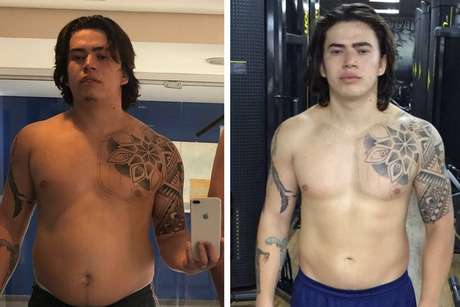 The original caption of the publication had the following sentence: "Who wants (as I wanted) to find a way, who does not want (as I often did not want), makes an excuse."
"There are people who do not have the money to pay for a gym, supplements, a nutritionist, a person who does not have the time and worries about the food on the table, but Whindersson (who just dropped out) commented on a follower on the tweet.
Whindersson said, "I just lost weight, I've been trying to give up for two years and I've been stuffed with so much accordion in my legs."
"Six months ago I ran like a motherfucker in the morning and changed my food.Two weeks ago I started with my personal friend.It does not want, it does not get in the way, p ***," she snapped .
"P ***, there are people who have problems, but there are people who just need a little push, it's for these people I'm talking about, p ***. […] If that person has depression, then it is clear that in her case it is a delicate matter, it is clear that she has to treat it differently, "he justified.
Whindersson further assured that his weight loss was not hampered by more serious problems: "I only ate mess day and night because I really wanted it"
View the post before and after Whindersson Nunes and the following discussion with the follower:
Who wants a way, who does not want to make excuses?

15 kg less! pic.twitter.com/sjfowNoGYu

– Whindersson (@whindersson) August 25, 2018
There are people who do not have the money to pay for gym + supplements + sports nutritionist + personal to accompany. There are people who do not have time and are worried about putting food on the table

But pro whindersson (who just lost weight) with overweight ta so pq https://t.co/5jSnNzGa0P

– Alexandre (@Iexandre) August 26, 2018
I just lost your ass. I've been trying it for 2 years and give it up, it was so fucked in the leg of so many accordion effects. After 6 months I walk every morning like a bastard and change my diet. A 2 WEEKS, I started with a personal friend of mine. He does not want to, he does not bother him. https://t.co/xY2fJ4Ryrg

– Whindersson (@whindersson) August 27, 2018
People understand and act like a beast to seal. Damn, there are people who have problems, but there are people who just need a little push. And it is for these people that I tell you

– Whindersson (@whindersson) August 27, 2018
"It is not so, who-and-who has depression" as that-and-who has depression, then it is CLEAR that in her case is a delicate issue, it is OBVIOUS who has to treat differently, nobody says here that TOOOOOOODO- world does not train for laziness, but q fuck

– Whindersson (@whindersson) August 27, 2018
People who get fat by losing a loved one, a relationship ends, a personal problem is a very delicate matter, this is one thing of the piece, but in my case I REALLY PORCARIA NIGHT AND DAY PQ I WANTED YOURSELF

– Whindersson (@whindersson) August 27, 2018
So who wants to find a way (as I wanted), who does not want to make excuses (as I often did not want)

– Whindersson (@whindersson) August 27, 2018

Source link