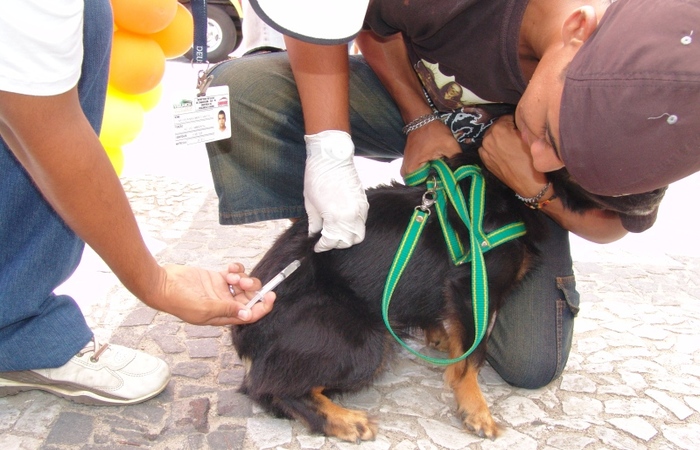 Image: Divulgao
The municipalities of Pernambuco present on Saturday (15) the D-day of the National Campaign for Vaccination Antirrábica Canina and Felina. About 8,000 vaccination points will work on this day, according to the organization of each city. The goal in the state is to immunize more than 1.5 million dogs (1,160,989) and cats (366,855).
The campaign is aimed at controlling the circulation of dog and cat rabies virus, preventing human rabies. The last case of the disease in humans transmitted by dogs in Pernambuco was in 2006; and by 2017 per cat, which must have been in contact with an infected bat.
Rabies is a viral and infectious disease transmitted by mammals. Transmission of rabies takes place by penetration of the virus into the saliva of the infected animal, mainly by biting, scratching and licking mucous membranes. The virus enters the body, multiplies and reaches the peripheral nervous system and later the central nervous system. The state coordinator of the Rabies Control Program, SES, Francisco Duarte, emphasizes that the best form of prevention is vaccination. If you can not vaccinate your pet during the D-Day campaign, you should contact your local health department for zoonoses.
When someone is attacked by an animal, he must immediately wash the wound with soap and water and he must search the nearest health post as soon as possible. Rabbinic dogs have symptoms such as: aggressiveness (attacks of people and objects) or sadness (looking for dark spots), excessive salivation, swallowing problems, barking and paralysis of the hind legs. In humans, the disease attacks the central nervous system, leading to death. The incubation period is very variable, from days to years, with an average of 45 days in humans and 10 days to 2 months in dogs.
Prophylactic treatment with rabies is also recommended for all wild-type aggression (bats, fox / bush and marmosets). Serum and vaccine for this treatment are available free of charge on the SUS network. The dog antibiotic vaccine is also free. The only way to prevent the occurrence of the disease in urban areas is through annual vaccination of dogs and cats.
Source link