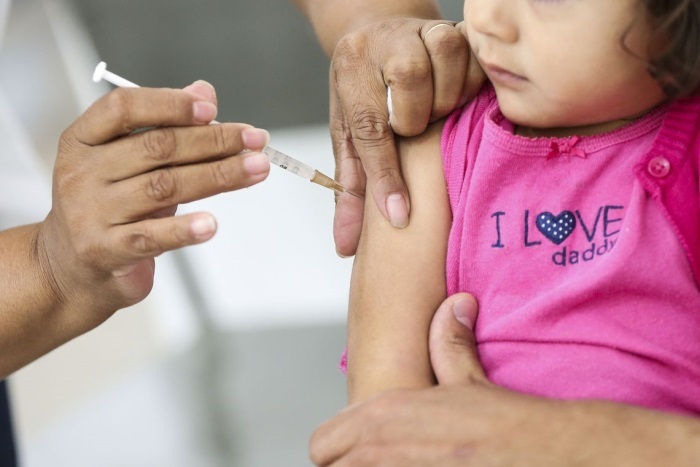 The campaign runs throughout the country until the end of the month and is expected to reach 11 million children from one to under five

vaccination against polio and measles
The Ministry of Health is promoting a campaign against vaccine against polio and measles by 11 million children under the age of five. On Saturday (18) national health departments made the D-Day of the National Vaccination Campaign and to date 40% of the children have been vaccinated.
According to data from the Ministry of Health, more than 9 million doses of polio vaccines have been administered to children across the country. Against measles there were 4.5 million, which corresponds to about 40% of the target group for each of the vaccines.
The expectation for D-Day was to conclude Saturday with at least 60% of the vaccinated children. The campaign even applies to children who are aware of the vaccination.
Health posts have little demand on & # 39; D-Day & # 39; vaccination
For polio, children who have not taken a dose of the vaccine will receive inactivated Poliomyelitis Vaccine (VIP). Children who have already taken one or more doses receive the drop (Polio Vaccine – VOP).
For measles, all children must receive one dose of the MMR, regardless of the vaccine situation. The exception is for those who have been vaccinated in the last 30 days and do not need a new dose.
outbreaks
Currently the country is struggling with two outbreaks of measles, in Roraima and Amazonas. As of August 14, 910 cases of measles have been confirmed in Amazonas and 5,630 are still under investigation. In Roraima there were 296 confirmed cases and 101 were still being investigated.
The outbreaks are related to imports, since the genotype of the virus (D8) that circulates in the country is the same as the virus that circulates in Venezuela, the country that has been confronted with an outbreak of the disease since 2017.
Individual cases relating to imports were identified in São Paulo (1), Rio de Janeiro (14); Rio Grande do Sul (13); Rondônia (1) and Pará (2). Vaccine blocking measures, even in suspicious cases, are carried out in all states. Up to now, six deaths from measles have been confirmed, four in Roraima (three in foreigners and one in Brazilian) and two in Amazonas (Brazilians).
Source link