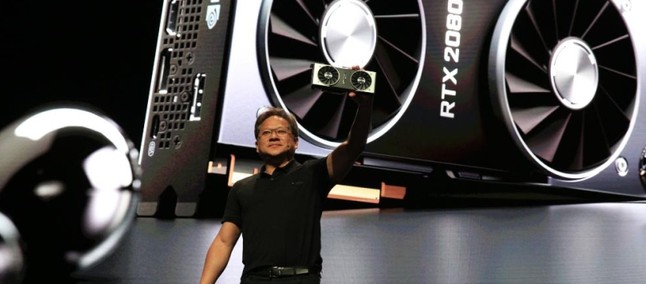 After officially announcing its new and powerful RTX 20 video cards, NVIDIA has started releasing benchmark tests that reveal the power of new Turing GPUs compared to Pascal architectural models.
Revealing in the announcement event that the "Turing is 6x [mais poderosa que] Pascal ", all users were enthusiastic about the gigantic processing and the ability to process the graphical representation on the new boards, but at every Nvidia post we see that Turing is not 6x Pascal, but 1.5x Pascal.

Technically Turing can be six times better than the previous architecture, but this number is taken into account in relation to the new ray tracing technology (ray tracing) and only in this respect.
As you can see in the image below, the difference is big: it is 308 ms from Pascal against only 45 ms Turing in relation to ray tracing. In another scene we have 576 ms versus 86 ms of the new architecture.
however, in virtually all other tests and benchmark comparisons officially revealed by Nvidia itself, we see that the new RTX 2080 is superior to the GTX 1080 but 1.5x higher.

At the moment only 11 games are being prepared to take full advantage of the Turing architecture and its ray tracing: Battlefield V, Metro Exodus and Shadow of the Tomb Raider are some of the titles, but they show a 1.5x leap in comparison with performance in Pascal architecture.
And since the new RTXs are worth up to twice as much as GTX, it may not be as beneficial at first to get the new NVIDIA graphics cards for a few other reasons.
Developers are struggling to run their games at 60 FPS in 4K resolution, even with all powerful RTX graphics processing. Shadow of the Tomb Raider, for example, runs "only" in 1080p resolution with an average of 40 FPS on the RTX 2080 Ti, the most powerful GPU of the announced trio.
The developer of Metro Exodus focuses on the 1080p at 60 FPS with ray tracing, but there are no guarantees that the game will be released with this standard during most of the game.

Be that as it may, it seems that paying twice the price of the "old" Pascal architecture GTX to play in 1080p and not even the 60 FPS guarantee may not be as beneficial.
Source link