Sao Paulo had to sweat a lot to beat Ceará 1-0, a goal by Bruno Peres, and keep the Brazilian championship ahead for more than 57 thousand fans in Morumbi – the record of the competition's public, enrolling in a Fla-Flu was not defeated.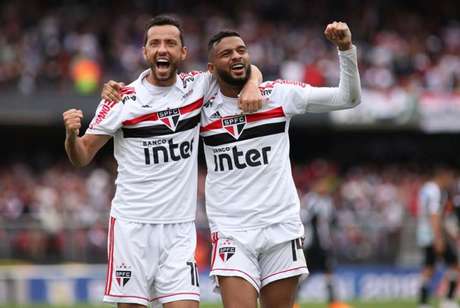 The Tricolor reached 45 points, four more than Internacional and five more than Flamengo, which still plays on Sunday. Ceará, with 17 points, is on the penultimate place.

Reset first time
As expected, Sao Paulo faced a huge crowd of Ceará players for the area. Diego Aguirre's team showed that he was prepared for this, especially in the first half of the initial phase, running the ball, moving forward on both sides and creating opportunities. In the best of them, Éverson made great defenses in recordings of Reinaldo and Everton after an excellent move by Rojas.
Everything goes wrong

The nervousness took over São Paulo in the second half. Besides the difficulty of making a goal, the team was faced with a series of bad news. Everton, who had already received the third yellow card in the first half, felt his left thigh and had to make room for Regis. Nenê, who made a good start, also took the third card to complain to the referee – Jucilei would also receive at the end of the game. With 24 minutes played, Bruno Peres was a goal through the home side's central defense of the area, but the ball crashed past the goalie and tackled it down 0 – 6.
In the midst of all this, the only moment of euphoria was caused by a saving defense of Sidão in the great movement of Leandro Carvalho. The goalkeeper, so criticized, had called his name on the stands.
Phew!

It was suffered, was sweaty, but it was with great patience that the São Paulo came to the goal. Reinaldo made a great individual move on the left and served Diego Souza, who was incredibly cool to find Bruno Peres again very well positioned. This time he did not forgive: Tricolor in the front in the 32nd minute!
Ironically, it was one of those bad messages that had reached the goal. Bruno Peres played as right wing after Everton was replaced and came out twice in circumstances. Régis took the right wing and Rojas went from right to left. The deportation of Leandro Carvalho, shortly after the goal, reduced the forces of Ceará in an attempt at a reaction.
agenda

São Paulo returns to Morumbi next Sunday at 16h, against Fluminense, without suspensions of Jucilei, Everton and Nene. Ceará visits Flamengo at 11 the same day.

TECHNICAL DATA SHEET
SÃO PAULO 1 X 0 CEARÁ
Date Time: 8-8-2018, 11 o'clock
Place: Morumbi, in São Paulo (SP)
referee: Wagner Reway (MT)
assistants: Alessandro Alvaro Rocha de Matos (BA) and Eduardo Goncalves da Cruz (MS)
Public and income: 57.323 / R $ 2.666.528.50
Yellow cards: Éverton and Nene (SÃO); Everson, Ricardinho, Richardson, Edinho, Reina and Arthur (CEA)
Red card: Leandro Carvalho (CEA)
target: Bruno Peres, at 32 & # 39; / 2ºT (1-0);
SÃO PAULO: Sidão, Bruno Peres, Bruno Alves, Anderson Martins and Reinaldo; Jucilei, Luan (Shaylon, at 16 & # 39; / 2ºT) and Nene; Rojas, Everton (Regis, 22 & # 39; / 2ºT) and Diego Souza (Carneiro, at 43 & # 39; / 2ºT). technical: Diego Aguirre.

CEARÁ: Everson, Fabinho, Luiz Otávio, Tiago Alves and João Lucas; Edinho (Pedro Ken, at 37º / 2ºT), Richardson, Ricardinho (Reina, 18º / 2ºT) and Calyson (Felipe Azevedo, 27º / 2ºT); Arthur and Leandro Carvalho. technical: Lisca.

Source link