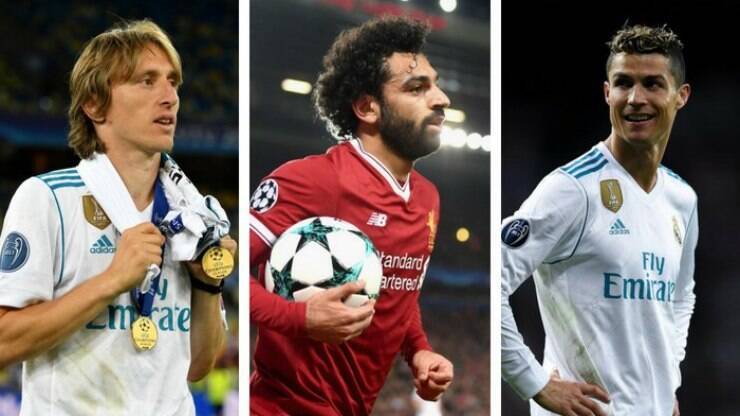 UEFA announced on Monday (20) the three players who will play for the best player of the season
2017/18.
Also read: Uefa announces list of participants for the best target price of the season
Luka Modrić
, Cristiano Ronaldo
and Mohamed Salah
were chosen to receive the trophy of player of the year Uefa
.
The Croatian jumped in Real Madrid, where he won the Champions League and Croatia, with whom he reached the final of the World Cup and was chosen as the best player of the tournament.
Cristiano Ronaldo, now with Juventus, made another fantastic season for Real Madrid and became a UEFA Champions League five-time champion, and was also the top scorer of the league for the sixth consecutive year.
The Egyptian Salah drew the attention of the whole world by bringing Liverpool to a European final after so many years and broke several records in the English team.
Modrić. Ronaldo. Salah. 👌
Who deserves to be UEFA player of the year 2017/18? 🤔

🗓️ #UEFAawards
Winners announced on the #UCLdraw
August 30 pic.twitter.com/mLOo7bTTOz

– UEFA Champions League (@ChampionsLeague) August 20, 2018
The winner will be known along with the UEFA Best Player of the Year award and the UEFA Champions League-position awards during the group stage draw on August 30 in Monaco. The player of the UEFA Europa League season will be known the next day.
Also read: UEFA ends the draw and Champions League has a knockout match
The rest of the top 10 of UEFA
4 – Antoine Griezmann (Athletic and France) – 72 points
5 – Lionel Messi (Barcelona and Argentina) – 55 points
6 – Kylian Mbappé (Paris and France) – 43 points
7 – Kevin De Bruyne (Manchester City and Belgium) – 28 points
8 – Raphaël Varane (Real Madrid and France) – 23 points
9 – Eden Hazard (Chelsea and Belgium) – 15 points
10 – Sergio Ramos (Real Madrid and Spain) – 12 points
The list of three finalists was chosen by a jury of 80 club coaches who participated in the UEFA Champions League group stage (32) and the UEFA Europa League (48) 2017/18 together with 55 reporters selected by European Sports Media (ESM), representing each member of UEFA.
Read also: Cristiano Ronaldo goes empty in his debut but Juve wins from turn
The members of the Uefa
each of three players, with five points first, the second three and the third. Coaches are not allowed to vote for their team players.
Source link