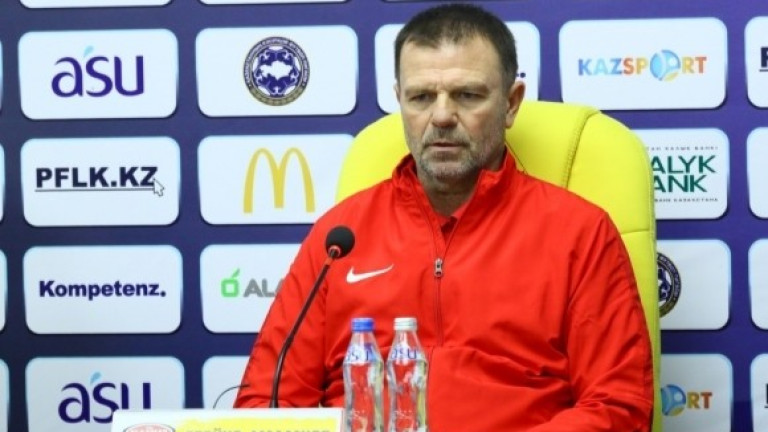 Kayser coach Stoycho Mladenov admitted to Channel 3 that he had spoken twice about his return to CSKA. The specialist commented on the processes of the army and the money paid for the emblem.
"There were talks twice, but in both cases I was working on a contract, and the impossibility is only that I signed a contract and can not leave without any compensation.
I said and I will say it again, I always hold on to the word, it can even sound singular, but from the other side of the world I would go back and return to CSKA. But at the moment the situation is like that.
This is an act of Ganchev, who proves and shows her love for CSKA. I have often said that this is not money that is thrown into the wind or as it was expressed in the channel. Maybe it meant something else, but it sounded like that because CSKA is the biggest brand.
There is no other Bulgarian brand like CSKA to sell at such prices. And that money that he has invested in CSKA is of great importance that CSKA gets its emblem. This is a continuity. Second, unites fans. Even those who are separated for one reason or another, recognize CSKA, because buying the emblem gives us the continuity we are talking about. And third, CSKA has a very high, high price. I am convinced that good management, a good transfer policy, this money will be increased tenfold.
These are very personal things. I do not share them with the general public. Everyone needs it. These are fair money. Everyone has the right to use this in a way that he deems appropriate. Who gave it, who did not give either. With my team, for example, we worked for ten months without compensation. Do you think someone has asked me at this moment how I am. Or when I did the heart intervention, someone from CSKA came to pay the operation. So many things are thin, so I prefer not to comment on it. Do not ask me such questions.
Undoubtedly, I said, and there are no two opinions, with the purchase of the emblem this continuity took place and from now on it is CSKA.
We monitor the processes, which are correct and what is wrong. Each of his prisms judges what is right and what is wrong. Once they have decided to do this in the club, then it is good for them. Yes, if I am in CSKA, I would work my way. I would defend my position as a senior coach and the sporting and technical part with no one to divide it. At the same time, I have never shared it with anyone. So when I decide to buy or sell a player. I bear responsibility, "Mladenov said.
Source link