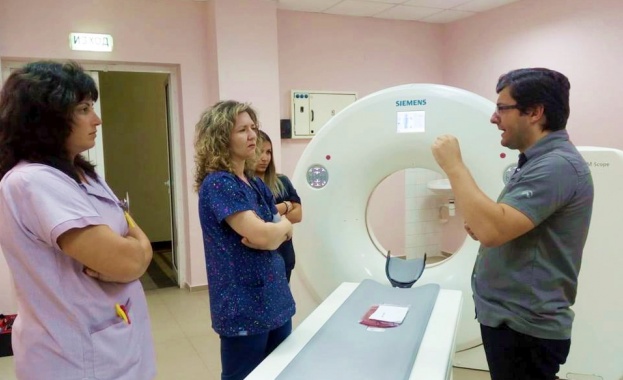 August 26, 2018 | 14:22
/ CROSS / In Northern Bulgaria there are now two hospitals that measure bone density with a modern scanner and accurate software. Most recently, the software was introduced in Upper Jaroslav Hospital, reported Darik Radio.
A modern software for osteodensitometry is installed in the computed tomography of the Department of Imaging Diagnostics at St. Ivan Rilski University Hospital – Gorna Oryahovitsa, and is the medical term for measuring bone density. can rely on precise results.
"This method produces much faster and more accurate results, and the radiation is also very small – as with a normal X-ray," said Dr. Galya Dacheva, head of the department.
A week before the software was installed, doctors were trained to use it. Since it was released (about 4 days ago), more than 15 people have been assessed. Separately, there are many people waiting for their turn.
Dr. Dacheva explained that everyone who has passed the test will receive the results on a disc or on paper. To keep track of the condition of each patient, a file will be created to keep the results of previous research.
It is a fact that there is a need for accurate bone density tests, because osteoporosis is the third most common deadly disease in the world. The first two places are for cardiovascular diseases, blood vessels, and so on. (including high blood pressure) and oncological conditions. No wonder that after a while the osteoporosis would come forward and take one of the best places. This will happen because of the aging of the population and the increased life expectancy.
The costs for the treatment of this disease are enormous
That is why the prevention of osteoporosis is important, as is the timely seizure & # 39; of the disease.
A silent epidemic, as they call osteoporosis, will deprive many people of mobility in the coming decades. And not only this – it will be the cause of their death if it is not detected in time, not treated or prevented.
The elderly are at the greatest risk. As the age grows, and with the onset of osteoporosis, the bones become thinner and begin to break. Usually the neck of the femur is broken in case of trauma. The victims can not move, fall into bed, and thus develop related obesity, unpleasant illnesses.
More than 80% of patients with osteoporosis, followed by pressure ulcers, die. The risk factors for changes in bone density are usually: elderly and post-menopausal conditions. Osteoporosis is also a threat for people with certain endocrine disorders. These include diabetes, basic disease, leukosis, chronic liver and kidney disease, rheumatoid arthritis. Some medications also change bone density. Long-term treatment with corticosteroids and thyroid hormones should be accompanied by a regular study of bone density. Certain meaning, and in this disease, plays heredity. Osteoporosis is especially risky for women with a graceful body with a fine bone structure.
Copyright © CROSS Agency Ltd.
When using content from the CROSS Information Agency
the reference is mandatory.
Source link