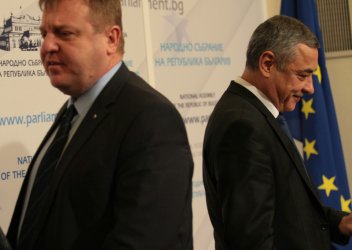 Deputy Prime Minister and Co-President of the United Patriots Krassimir Karakachanov (IMRO) believes that communication in the coalition is blocking, but does not expect collapse. The reason for his remark was the resignation of the three ministers because of the crash near Svoge and the warning from his coalition partner, Valery Simeonov, that he could leave the power if he learned about it from the media.
Asked whether he is worried about his own position in the government, as Prime Minister Borisov announced that he had earlier comments to other ministers than the three left, Karakachanov stated that he was not worried.
"I'm not worried, it's all about dialogue and debate, everyone has their own approach," said Krassimir Karakachanov today.
"The ministers that I have proposed without my permission can not be changed unless they do something wrong," said Karakachanov, quoted by bTV.
"There is no need to protest," said Niko Dimov, the Minister for Environment and Water. "I am still working, the idea is for a full mandate and when this mandate will end – it is the work of the Prime Minister, Mr. Karakachanov and the political leadership of this coalition council," said Neno Dimov.
The leader of the other partner in the coalition – Valery Simeonov, silent a second day after he announced on Friday that his NSPB formation is gathering to decide on his remaining power.
According to non-official information, NFSB is in Burgas to clarify the position on the three ministers' resignation – Interior Minister Valentin Radev, Transport Ivaylo Moskovski and the regional Nikolay Nankov. According to the local Flagman, the views of the party are mixed.
Was this article useful for you?
We will be happy if you support Mediapool.bg so that you can continue to rely on independent, professional and honest information and analytical media.
Support us
Source link