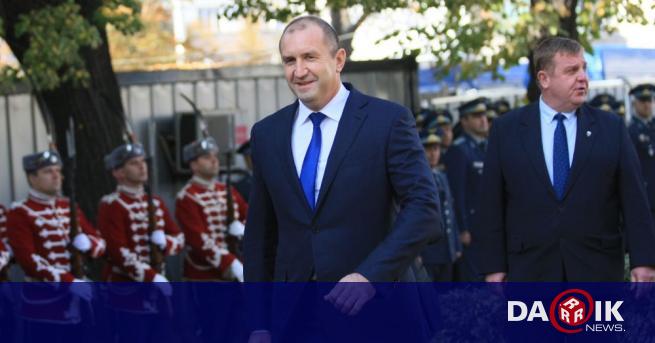 Rumen Radev: The Bulgarian Air Force is not only a pillar of national security

99.257
Rumen Radev: The Bulgarian Air Force is not only a pillar of national security



Rumen Radev: The Bulgarian Air Force is not only a pillar of national security
President Rumen Radev called on the Prime Minister, the ministers and deputies to be silent & # 39; on the topic of choosing a new hunter while the work of an interdepartmental committee runs. "Radio Silence" is an aviation term used by pilots in a tense situation to provide the maximum opportunity for its successful solution, explained Colonel Angel Georgiev, president of the Bulgarian Aviation Association, to Darik.
After his participation in the official ceremony on the occasion of the feast of the aviation and the Bulgarian Air Force, journalists, President Rumen Radev urged politicians to keep silent about the subject with the choice of a new fighter plane for the army.
"Aviation has a very nice term – radio silence, I urge the Prime Minister and the Ministers and Members of Parliament to remain silent while the inter-ministerial committee is continuing Let us show that we are a civilized state and transparency, objectivity, equality no empty stories, "he said.
Radio silence is the term of aviation, used in critical situations in the airspace, explained to Darik, the former military pilot, the colonel of the reserve Angel Georgiev.
"Radio silence is when there is a special situation or an emergency in the airspace The remaining pilots, where the aircraft and systems work normally and do not need help, advice and impact, and where the flight is routine, are called to be silent, ie not to use the channel in which they conduct the conversations, to have conversations with in order to provide maximum comfort to people in an unstable environment and to whom the full attention must be paid from anyone who can help them, "he said . BGNES
The procedure for selecting a new type of fighter plane is in the final and an interdepartmental committee examines the bids. Earlier this month, four attempts by three countries to open a new jet fighter for the military were opened at the Ministry of Defense. The United States offers new F-16 & # 39; s and new F-18's, the new Gripen of Sweden, and Italy has proposed a used Eurofighter.
Source link