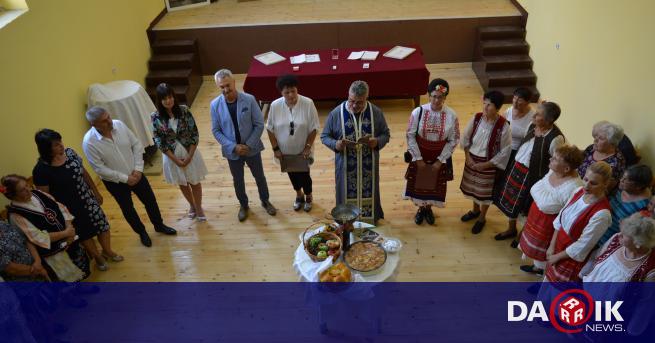 The hall of Probuda Chitalishte in the village of Krapchene became a temple more than 90 years after the founding of the cultural center. The celebration began with a feast, served by Father Nikolay, in the presence of the mayor of the village of Iliyana Traykova, the mayor of the municipality of Zlatko Zhivkov, the deputy Dilyan Dimitrov, the deputy governor Nina Petkova and deputy governor Nina Petkova. the president of the city council of Montana Kamelia Trifonova.
After almost half a century, the Chitalishte building has been completely renovated. The funds, which amount to 45 thousand leva, come from the budget of the municipality of Montana. This year the municipality has invested nearly 200,000 leva in the renovation of the chitalishte buildings in the villages of Virovy, Krapchene, Stubel and Slavotin, said Mayor Zlatko Zhivkov, mayor. For the people of Krapchene, he promised to finish the rough construction of the St. Dimitar Church by the end of September, the first sod of which was made last year. In turn, the deputy Dilyan Dimitrov said he was going to make money for the interior design of the church. The people from the village feel the community center "Probuda" as their home and remind its founders – the teacher Vladimir Simeonov, Mladen Todorov – Decho, Georgi Lechov, Yakim Hristov, Dimitar Filipov, Georgi Petrov. At the celebration of the square received thanksgiving plaques from representatives of local and central authorities, amateur actors from Montana, Gabrovnitsa and Lipen, who over the years supported and participated in the initiatives organized in Krapchene. The dance group of the Chitalishte in Gabrovnitsa, the Pastries Ensemble of Razum Chitalishte in Montana and the Folklore group in Municipal Youth House Montana appeared to the public. As birthday gifts were given – a camera by the mayor Zlatko Zhivkov and a stereo installation by the deputy Dilyan Dimitrov and deputy district governor Nina Petkova.
Source link