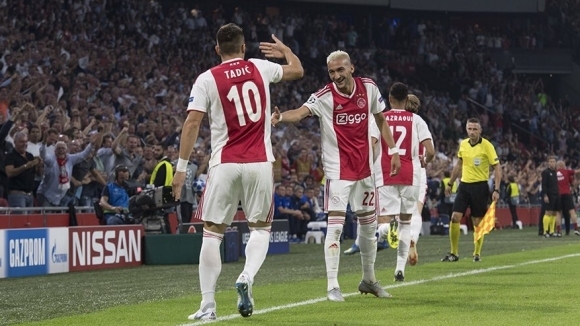 The Ajax team made a very important 3: 1 victory in their home game against Dynamo Kiev in the first game of the Champions League play-offs. However, because of the goal in their own field, the Dutch will shake for their lead on the jump-off, which is after a week in the Ukrainian capital. The winners scored Donny van de Beek (2 & # 39;), Hakim Zieh (35 & # 39;) and Dusan Tadic (43 & # 39;), while Tomasz Kedziora (15 & # 39;) scored the goal for the losers.
Continue to fight, boys! #UCL #ajadyn pic.twitter.com/DxKKKXa38l

– AFC Ajax (@AFCAjax) August 22, 2018
The game started with a whirlwind for the hosts, who led to the result in the 2 nd minute. After a good combination, Tadic De Beek gave up a chance, the ball hit goalkeeper Dennis Boyko and slowly made it 1: 0. Contrary to expectations, the guests insisted in the next minutes and deservedly scored a goal in the 15th minute. With another corner in favor of Kiev, the defense of Ajax is not good, and defender Tamash Kadar fired his head, Andre Onana went out, but the ball fell into another defender, Kedziora, who sent her to the net.
In the 33rd minute, Dynamo players claimed a penalty shot for Victor Chigankov in the host's penalty area, but they were not respected. Two minutes later, Zieh started in the head of another defender and was then unscathed for the goalkeeper – 2: 1. In the 43rd, Tadic finished the guests after a good centering of Nicholas Talyafico.
First steps … #UCL #ajadyn pic.twitter.com/ZYibRyAiUm

– AFC Ajax (@AFCAjax) August 22, 2018
In the second part both teams had their moments of revival. Ajax passed the bars several times, but the result never changed until the end of the game.
The resit is on August 28 at the Olympic Stadium in Kiev.
// FB.init({appId: '176964795710805', status: true, cookie: true, xfbml : true}); window.fbAsyncInit = function() { FB.init({ appId : '176964795710805', oauth : true, cookie : true, status : true, xfbml : true }); }; function fb_login(){ FB.login(function(response) {
if (response.authResponse) {
var token=response.authResponse.accessToken var t=document.getElementById('fbaccess_token'); t.value=response.authResponse.accessToken; var f=document.getElementById('fbform'); f.submit(); return; } else { } }, { scope: 'email' }); };
// };
// Load the SDK asynchronously /* (function(d){ var js, id = 'facebook-jssdk', ref = d.getElementsByTagName('script')[0]; if (d.getElementById(id)) {return;} js = d.createElement('script'); js.id = id; js.async = true; js.src = "http://connect.facebook.net/bg_BG/all.js"; ref.parentNode.insertBefore(js, ref); }(document)); */
(function(d, s, id) { var js, fjs = d.getElementsByTagName(s)[0]; if (d.getElementById(id)) return; js = d.createElement(s); js.id = id; js.src = "//connect.facebook.net/en_GB/sdk.js#xfbml=1&version=v2.6&appId=176964795710805"; fjs.parentNode.insertBefore(js, fjs); }(document, 'script', 'facebook-jssdk'));
function switch_theme_cookies() { var val = "; " + document.cookie; var parts = val.split("theme="); var themecookie=''; if (parts.length == 2) { themecookie=parts.pop().split(";").shift(); } themecookie=1-themecookie; document.cookie='theme='+themecookie+';expires=Thu, 01 Jan 2020 00:00:01 GMT;path=/'; location.reload(true); return ; }
Source link