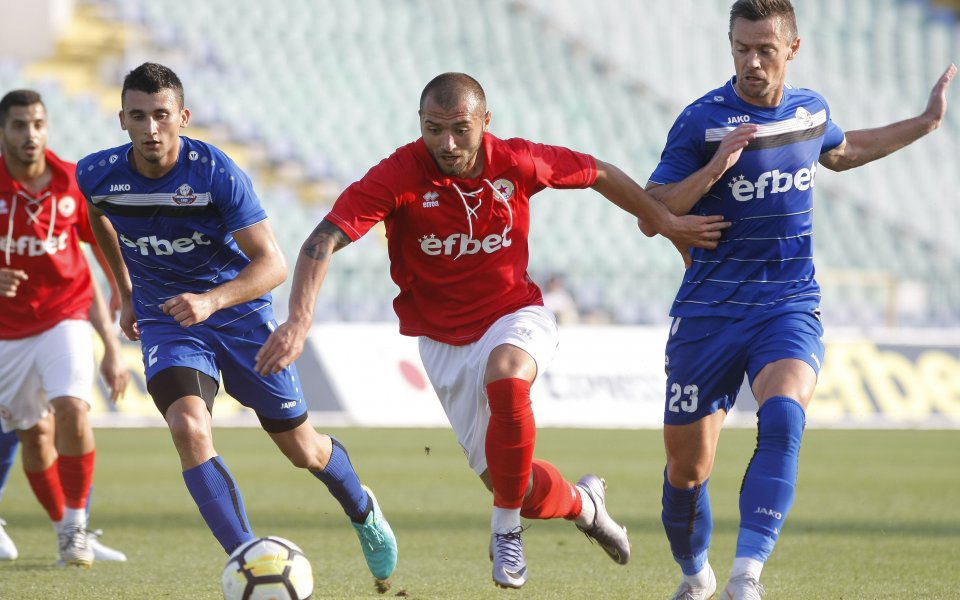 The Derby of the 4th round of the Second Class between CSKA 1948 and Montana offered many emotions, but no winner. The Battle of the National Stadium "Vasil Levski" ended in 1: 1, which certainly did not end up in the accounts of both teams for the pursuit of the top positions of the rankings.
The game in this game came after the break. First of the hosts took the lead in 63 minutes after a penalty of Andon Gushterov but ten minutes before time Atanas Iliev finished the draw and held it to the end.
In the final minutes of the game, the two teams got a red card, first Vassil Popov was ousted from Montana and only two minutes later, Christian Mihailov was taken out of the red.
The first part of the game did not offer fans special emotions, although the hosts were more active, but they did not realize one of the situations they had found. That is why the game was abandoned for the second half.
The cleanest chance in the game so far came in the 60th minute when a shot by Svetoslav Dikov from CSKA 1948 for the goal was erased by Stefan Tsonkov. But in the next attack, Sofia citizens were entitled to pay a fine.
When Petko Petkov broke into the penalty area and was fouled by goalkeeper Ivaylo Vassilev. The referee did not hesitate to show the white point, and Andon Gushtevov showed a coolness and pierced it just before 1: 0.
There were equal minutes and both teams did not have so many clean positions. Yet CSKA 1948 players were more active but did not manage to score in those minutes. And they were punished with a counter at the end.
In the 80th minute Vladislav Misyak made a great break from the left and left the ball next to the goal where Atanas Iliev stood, and he did not hesitate to make his way through 1: 1.
Shortly after, however, Montana's ambitions to take a complete turn hurt, after Vassil Popov got a well-deserved second yellow card to win a detachment from a rival footballer. This situation led the mentor, Ferrario Spassov, to protest violently and he was also sent to the stands.
But this numerical superiority of CSKA 1948 did not last long. Only two minutes later, Christian Mihaylov also got a second yellow card and both teams ended up in fewer chips.
The last clear position in the game was the continuation of the regular playing time. Then the guests got the right to score a double blow at 5-6 meters from the goal, but Atanas Iliev shot just as hard and inaccurate as he missed the chance of a complete turn.
Source link