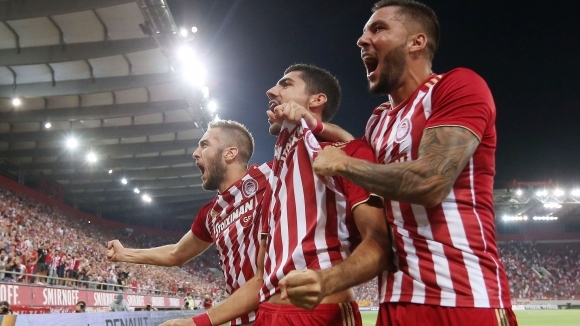 The Olimpiakos team took a big step towards the Europa League after a 3-1 victory over Burnley. A hero for the Greek team was Konstantinos Fortonis, who scored two of his hits for his team. Olympiakos took the lead 19 minutes into the match after a perfect 25 meter pass to Konstantinos Fortwood.
The attacker took over the penalty kick and left the wall brilliantly, cheating Tom Heaton. In the 33rd minute, Burnley & # 39; s team equalized after a fine penalty of 11 meters by Chris Wood. 49 minutes into the match, the visitors of Andreas Boocachalis Olimpiakos felt that victory was frustrated for the second time in the lead, after 60 minutes, Konstantinos Fortonis made it 3: 1 to make the score 3 – 1 after a penalty.
In the penalty area, the defender of the British team Ben Gibson got a second yellow card and red respectively, which means he will miss the rematch between the two teams next week.
// FB.init({appId: '176964795710805', status: true, cookie: true, xfbml : true}); window.fbAsyncInit = function() { FB.init({ appId : '176964795710805', oauth : true, cookie : true, status : true, xfbml : true }); }; function fb_login(){ FB.login(function(response) {
if (response.authResponse) {
var token=response.authResponse.accessToken var t=document.getElementById('fbaccess_token'); t.value=response.authResponse.accessToken; var f=document.getElementById('fbform'); f.submit(); return; } else { } }, { scope: 'email' }); };
// };
// Load the SDK asynchronously /* (function(d){ var js, id = 'facebook-jssdk', ref = d.getElementsByTagName('script')[0]; if (d.getElementById(id)) {return;} js = d.createElement('script'); js.id = id; js.async = true; js.src = "http://connect.facebook.net/bg_BG/all.js"; ref.parentNode.insertBefore(js, ref); }(document)); */
(function(d, s, id) { var js, fjs = d.getElementsByTagName(s)[0]; if (d.getElementById(id)) return; js = d.createElement(s); js.id = id; js.src = "//connect.facebook.net/en_GB/sdk.js#xfbml=1&version=v2.6&appId=176964795710805"; fjs.parentNode.insertBefore(js, fjs); }(document, 'script', 'facebook-jssdk'));
function switch_theme_cookies() { var val = "; " + document.cookie; var parts = val.split("theme="); var themecookie=''; if (parts.length == 2) { themecookie=parts.pop().split(";").shift(); } themecookie=1-themecookie; document.cookie='theme='+themecookie+';expires=Thu, 01 Jan 2020 00:00:01 GMT;path=/'; location.reload(true); return ; }
Source link