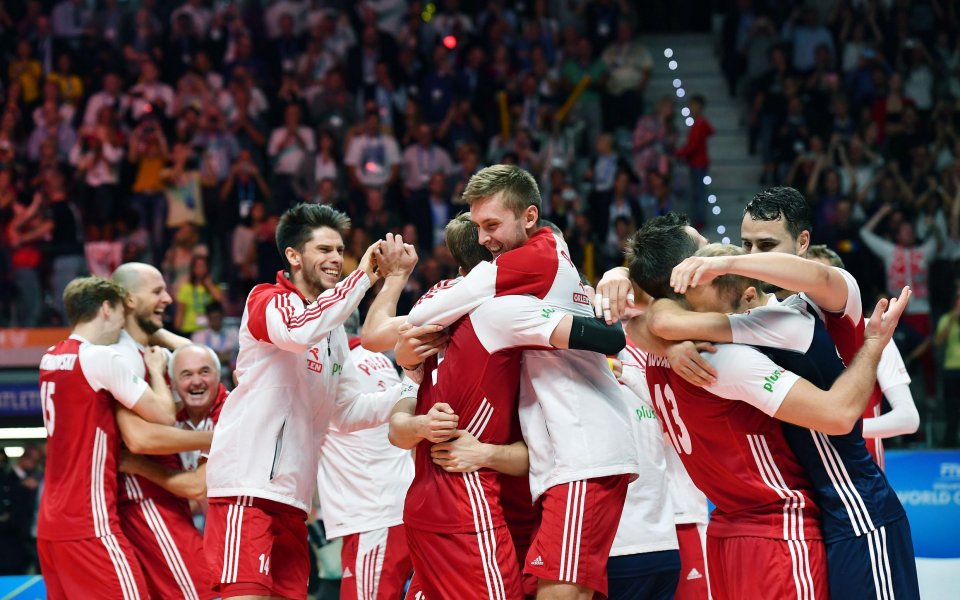 Poland is the new, old world champion volleyball. Polish troop won his trophy during the world championship in Bulgaria and Italy. In the final, which took place in the Pala Alpitur Hall in Turin, the Poles left no risk to the Olympic champion Brazil with a clear 3: 0 game. In the separate parts the game developed at 28:26, 25:20 and 25:23.
This is the third world title for Poland. The third place is the United States and the fourth is Serbia.
The final of this year was a repeat of the decisive clash of 2014 when the "Poljana Polska" defeated the "selesao" with a 3: 1 match.
The first game started immediately, but then the Poles took a lead and at 8: 6 the first technical break came. Michal Kubyak caught on with a great game and at 16:13 came the second break.
Cubak continued to harass the enemy and Poland's lead swelled at 8:16 PM. Brazil equalized the game and reached a draw in runs 23:23. The point-to-point game continued, with the most controversial moments. After all, the Poles turned out to be more agile and after a Brazilian out-of-the-box service, and then Kurek blocked the blockade at 28.26 hours.
"Polish Fellowship" went with more confidence in the second game. World championships winning volleyball players pulled their rival and at 8: 4 the first technical break. "Selesao" was slowly recovering and slowed at 10:11, but the Poles hastened to increase their lead, which was three points in the second break – 16:13. By the end of the second game, the good trend in Poland's match remained unchanged and this was reflected in the spotlight of the score. The party was closed at 25.20.
Overwhelmed by the development of the game, the world champions seem decided to put a final point in the dispute in the third part. They came in strongly and led with 5: 2. Five points were the difference of the first technical break – 8: 3 and six points divided the two selections at the second break – 16:10. Brazil gradually narrowed its deficit to three points – 14:17, but the Poles quickly increased their lead to five points. In the decisive moments the Brazilians went back to a point behind Poland – 21:22, but in this episode of the match "Poljina Polska" demonstrated a very strong game and closed the part at 25.23.
The best for the success of "red-white" was Bartos Kurek with 24 points. Michal Kubyak added 12. 12. For Brazil, Wallace de Souza registered 14 runs and Douglas Sousa reported 11.
After the match between Poland and Brazil, individual prizes were awarded, with the Bulgarian sports minister Krasen Kralev awarding the prize for Best Central Blocker by Pyotr Novakovski and giving Lubo Ganev the most prominent diagonal – Matthew Anderson.
Here is the final ranking after the end of the tournament:
1. Poland
2. Brazil
3. United States
4. Serbia
5. Italy, Russia
7. France, the Netherlands
9. Belgium, BULGARIA, Canada, Slovenia
13. Argentina, Australia, Finland, Iran
17. Cameroon, Cuba, Egypt, Japan
21. China, Dominican Republic, Puerto Rico, Tunisia
Source link