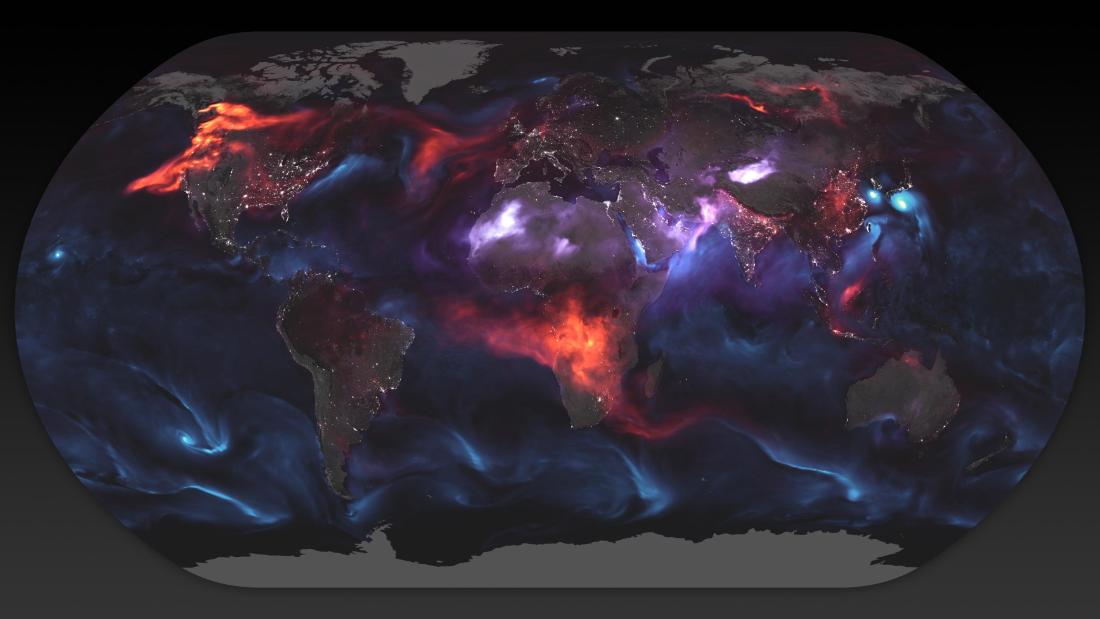 That kind of photo's is what you can see here in these composite images from NASA, representing the world as it was on August 23rd. The beautiful clouds of blue, purple and red are images of different types of aerosols in the atmosphere, collected by NASA satellite data and measurements on the ground.
According to NASA's description of the images, blue is sea salt, red is black carbon (as you would see at a fire) and purple is dust. By looking at the patterns of these three aerosols, you can distinguish some important weather and climate events: hurricanes, where the blues are closely linked; heavy wind and dust storms in the clouds of purple; and red sweeping carbon over forest fires.
"Some of the events that appear in the visualization caused quite serious problems on the spot," said the NASA description.
"On the 23rd of August, Hawaiians committed themselves to heavy rainfall and possibly severe floods and mudslides when Hurricane Lane approached. Two African tropical cyclones, Soulik and Cimaron, were about to lash South Korea and Japan. The plume of smoke over Central Africa is a seasonal occurrence and especially the product of farmers who light many small fires to keep crops and grazing land. Most of the smoke over North America came from large forest fires in Canada and the United States. "
READ MORE: Tracking Hurricane Lane
For the sake of clarity, the colors are not really how these aerosols look from space – certainly dust is not purple, and even the worst forest fire would not look so fierce from that far away. It is simply the magic of science. Well, that and many algorithms, imaging, modeling, data collection and so on.
Source link