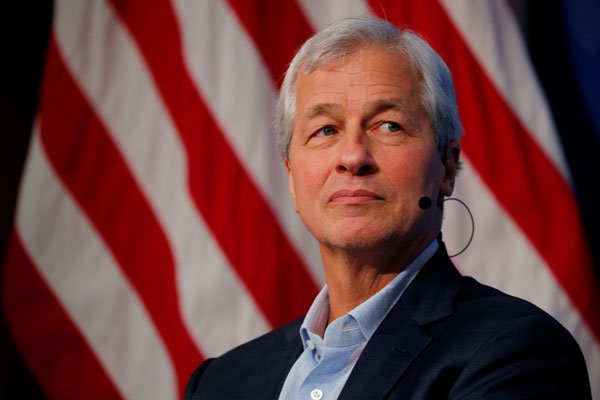 Loved by some and hated by others, the CEO of JPMorgan is one of the big winners after the 2008 global financial crisis.
Jamie Dimon immediately attacks if something is not fun in the financial world. For years it has been very critical about the regulations that have been adopted after the global financial crisis of 2008 and rightly so. Ten years later he is practically the only surviving driver, who also remained at the helm of JPMorgan Chase after he had driven him through the debacle.
The most powerful banker in the United States returned to the middle of the controversy this week when he challenged President Donald Trump before the presidential election of 2020. "I think I can beat Trump … I'm as hard as he is, but I'm smarter, "he said in a television interview.
And even though it was later criticized, his words exploded yesterday's reply from the Republican, who exchanged his remarks to put him down as an opponent: "he has no aptitude or" intelligence ", he is a bad public speaker and a bunch of nerves, otherwise it would be great, "said the head of state on Twitter, to then attribute the success of many entrepreneurs. "I have made many bankers and others look much smarter than they are with my big economic policy!" He wrote.
However, it was not Dimon's intention to actually run for the White House, but to put his business success on the table. "This wealthy New Yorker really earned his money (…) It was not a gift from father," he explained and said that recognizing that it is a good manager, does not translate to being good in the political arena.
"I should not have said it, I do not run, it shows that I would not be a good politician, I am frustrated because I want all parties to work together to solve the big problems," he said.
Part of the army
The son of Greek immigrants born in New York has led the largest financial institution of the four largest American banks for almost fifteen years.
He specialized in psychology and economics at Tufts University in Massachusetts and then obtained a Master of Business Administration (MBA) in 1982 at the Harvard Business School.
He was a member of the board of the Federal Reserve Bank of New York and was included by Time magazine as one of the 100 most influential people in the world on four occasions. He was also among the top executives on the institutional investor list from 2008 to 2011.
In his own words it is "(only) a part of the army that" supports the investment bankers he describes as the "Navy Seals" of the entity. But many in the industry, including rivals, ensure that personal dedication is granted to the company in every way, from Pfizer's refinancing in 2008 to night-time teleconferences, making customers feel good about how valuable it is. Your company helps explain why JPMorgan has survived the financial crisis better than any other bank in the country.
"If he had not been CEO, JPMorgan would be pretty good, but not as good as he is today (…) I would not want to be his successor," the head of one of the rival banks told Financial Times.
Say goodbye
Dimon has prepared its departure in recent months. Little by little, he delegated daily responsibilities to two of the bank's top executives, in a clear sign of his intention to retire when his contract expires within five years.
JPMorgan appointed two co-presidents in January – Daniel Pinto and Gordon Smith – who worked closely with Dimon. When asked if he wanted to make more commitments to Pinto and Smith, the 62-year-old entrepreneur told FT: "There's a core of truth in that."
By making an analogy with an American football game, the entrepreneur described himself as the coach. And is that according to Pinto, "Dimon, as well as CEO, is also a man and the responsibilities that he has led from his function until the duties have been divided over the three."
The recognition of their service is broad inside and outside the business world. But it is not necessarily everyone's taste. Some, including the Democratic Senator of Massachusetts, Elizabeth Warren, have even criticized his arrogance, others are inability to open the way for eventual successors and his sizable salary that hovered around $ 30 million in 2017.
Last survivor
This month, when the CEO of Goldman Sachs, Lloyd Blankfein, withdraws from his position, Dimon becomes the last executive director still present in the sector before the Wall Street crisis.
Loved by some and hated by others, it will bring the fact that JPMorgan is made into what it is now: one of the most important banks in the world, with a market capitalization of US $ 382 billion, and a broad influence that comes forward from the largest US lender and dominates the ranking of global investment banks.
The man behind the success
He is 62 years old.
Born in the Queens, New York district, he now lives in the Upper East Side of Manhattan.
He is married to Judith Kent and has three daughters: Julia, Laura and Kara.
He is a democrat.
He is the son of Greek immigrants. His father, Theodore Dimon, and his grandfather were brokers at the investment bank of Shearson.
He studied at Browning School and graduated from Tufts University in Psychology and Economics. He then bet on adding his MBA to the Harvard Business School in 1982 to his curriculum.
Since 2005 he holds the position of President and CEO of JP Morgan Chase Bank.
His salary in 2017 was US $ 29.5 million and his assets are approximately US $ 1,400 million.
Source link