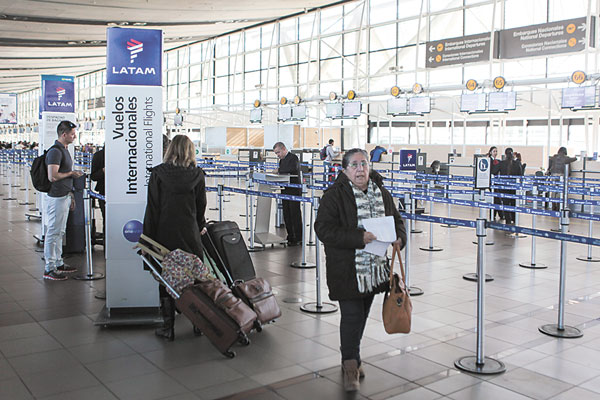 The company is projecting an improvement compared to the third quarter as a result of the implementation of the low cost model in the Trans-Andean Country.
A "challenging" macro environment is what Latam Airlines experienced in the second quarter. To overcome the problems caused by the peak of 13 aircraft on land as a result of the maintenance of the Rolls-Royce engines, the rise in the price of fuel and strikes, another point of concern has been added: Argentina.
"Today we see different situations, but the most worrisome is Argentina," said the executives in a conference call after the results.
The foregoing, due to the strong depreciation of the Trans-Andean currencies, of which the decline so far this year by more than 60% against the dollar has affected the results of the domestic market.
"The situation on the domestic market of Argentina, with the effect of devaluation and the price of fuel, is a challenge for everyone in that market," said Ramiro Alfonsin, vice president of finance at Latam Airlines.
Of course, he said, "it is important to point out that the devaluation has had a greater impact on international routes than on domestic routes."
This is due to the higher costs that led to travel on foreign routes of that market. "The weakness of today has more to do with doing business internationally The costs (in pesos) of travel abroad are greater," he added.
This complication occurs in a scenario in which the company expects a start on that market after the changes in the regulations.
The airline has implemented its low-cost strategy, after the release of the tariff floor for tickets purchased more than 30 days in advance, which they expect their demand will increase.
"At the beginning of the new quarter, we will be in a much better position to use our strategy in the light of the deregulation of the Argentine market," the executive said.
Argentina represents 11% of Latam's turnover, with 75% corresponding to the international market and 25% to the domestic market.
At a general level, Latam's numbers were affected by the macro environment, in particular by the price of oil, which represented US $ 175 million in additional costs.
The company reported losses of USD 19.6 million at the end of June 2017, although this represented a reduction of 72% compared to the same period of the previous year.
Regarding the effects that the maintenance of the Rolls-Royce engines has had, whereby six planes are being held without being able to fly, Latam said at the conference that he was "committed to not be on the ground by the end of the year. to be".
Source link