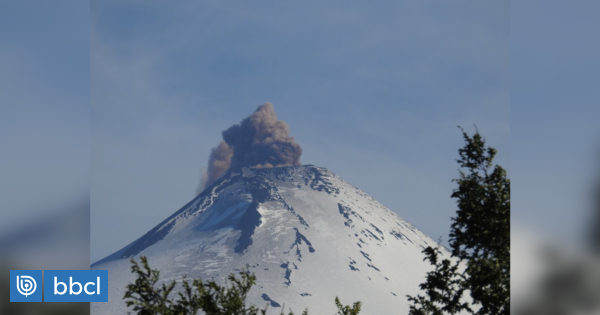 A protracted earthquake, the intensity of which was not reported, caused the release of ash and pyroclasts with a column rising 160 meters above the crater of the Villarrica volcano, which still falls under Yellow Alert, both technically and for the civil protection system.
The demonstration of Villarrica, which was registered shortly before 7 pm, is moving up another 13 emissions of particulate matter and pyroclasts recorded since August this year, generating dense fumaroles that rise several hundred meters from the crater of the Andean massif, according to the Fundación Volcanes de Chile's specialized POVI portal.
This Saturday, monitoring equipment installed on the volcano's slopes and surrounding area detected a protracted earthquake followed by an explosion expelling particulate matter and pyroclasts, which, according to the Volcanological Observatory of Los Andes del Sur, OVDAS, based in Temuco, generated a fumarole that rose more than 160 meters above the crater, is spread by the wind to the southeast, ash falls to that flank.
The regional director of the National Emergency Office, ONEMI, confirmed the warning in the massif.
In accordance with the foregoing, the Yellow alert from the Civil Protection System, for the municipalities of Villarrica, Pucón and Curarrehue in La Araucanía and the municipality of Panguipulli in the Los Ríos region due to the activity of the Villarrica volcano, which is in effect since August 6, 2019 and has been updated on October 8, 2019.
It was also reiterated that the Civil Protection System recommends enforcing preventative access restrictions around the active crater with a radius of 500 meters.
VOLCANO ALARM: Special report of volcanic activity from 🌋 #Villarrica, reports a protracted earthquake linked to a moderate explosion at the level of the crater, which occurred at 6:44 p.m. today. The fact is, you don't have to worry.@RTLnews monitors the most active volcanoes in the country. Alert #Yellow. pic.twitter.com/9GZxwqQNl1

– Sernageomin (@Sernageomin) December 5, 2020
Monitoring #Alert Yellow for the municipalities of Villarrica, Pucón and Curarrehue in the region of La Araucanía and the municipality of Panguipulli in the region of Los Ríos due to the activity of the Villarrica volcano. More information. https://t.co/meUbKvteDH pic.twitter.com/y12R6qux64

– onemichile (@onemichile) December 5, 2020
# CONAFAraucanía | The Vulcano #Villarrica on yellow alert, it is one of the few in the world with a lava lake in its crater, making it very active. Avoid approaching the 500 meter high danger zone around the crater. data @RTLnews. 📸 Ranger PN Villarrica pic.twitter.com/kfykqLHwHH

– CONAF (@conaf_minagri) December 5, 2020
Source link