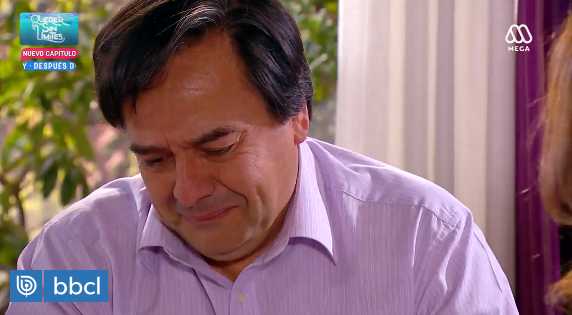 This Thursday were the followers of When I was rich they saw one of the most exciting episodes of the last time.
It turns out that the compadre Inostroza went to his house to speak and speak to Julia at that time Nelson Peña's wife asked him directly if he was gay.
Finally, in the presence of her friend, she confessed the truth and revealed her 40-year-old hard testimony to hide her sexual orientation.
She said sadly: "They are 40 years old … 40 years of this hiding" .
"I must have been about 13 years old, entered the first half, all my classmates were crazy about the girls, who first polished, who gave the first kiss, spied on them the locker rooms … and how I would not walk in? How could I not like a girl if they were all around it? How could I be different? I even polled with one, shabby thing, I let her suffer so much " she confessed. "Later I started I tried to pretend I had nothing, that everything that happened did not exist, it was not what I thought, I was wrong, I was ill, until I met a bigger goat and fell in love with it was … and not only I did not like girls, now I loved a man " he said.
"I grew up listening to the hole, little fletito, the colcinón, you put that in your head and you believed it … Even I started reading magazines to seek treatment I even went to the doctor to see if I could get this disease, "he said between sobs.
He never told his parents because he thought they would not understand it and that if he told them how they could throw him out of the house.
Julia supported her and told him that she would always have her and her family, although what torments Inostroza is Nelson's machismo and what his godchildren will say.
Below we show some comments that viewers expressed on the social network twitter.
What an exciting scene 😭 reflects both the reality of many people #SiYoFueraRico

– María Emilia Olave (@emilitaolave) 16 August 2018
#SiYoFueraRico poor compadre , penita

– Dani-ela (@ Danielak1r3n1) August 16, 2018
It is impossible not to cry with the history of the Compadre Inostroza #SiYoFueraRico

– kmilo636 ( @ kmilo636) August 16, 2018
#SiYoFueraRico that linda Julia with her compadre. I loved that attitude of inclusion and friendship. I would be the same.

– Elia Vásquez Torres 🍀 (@elia_vasquez_t) August 16, 2018
#SiYoFueraRico I'm sorry because the compadre talks about his homosexuality 😥

– Cristobal Anabalon (@CristobalAnaba) ] August 16, 2018
#SiYoFueraRico I thought the compadre was in love with julia .. Sniff pobreito, I felt sorry for the story of the compadre! 😪

– Mary🍀 (@ marybenji13) August 16, 2018
The silence of the misunderstood 😔 I know that it is a teleserie but that this is real and that there are still beginners who think it is a disease is 😭😭 19 #SiYoFueraRico

– silvana moncada (@Silmonca) August 16, 2018
#SiYoFueraRico The first exciting scene of this

– B. camilo (@ Bcamilo3) August 16, 2018
Pucha the sad story that hit the compadre Inostroza oh. 19 #SiYoFueraRico

– ⓒⓐⓡⓞ (@barranda_) August 16, 2018
The character of Claudio Arredondo who came out of the closet for that of Mariana Loyola in # SiYoFueraRico must be one of the few good things that have been done in the 8 Mega series.

– What is the Heck-tor? (@Nerdtor) August 16, 2018
I would be so happy with a gay uncle, we would see men together and I would look for your pololo LDNSKFJS #SiYoFueraRico

– daniel (@myngloss) August 16, 2018
#SiYoFueraRico gave me penita: c

– Florencia🌸 (@flo_rodriguezzz) August 16, 2018
@clauarredondom I congratulate your achievements in today's chapter #SiYoFueraRico was a remarkable hug

– Jorge Cortés Matus (@Jcortes_M) August 16, 2018 [Meijdescènevandecompadremetlajulyla @marianaloyola ] with goose feather jammed in character #SiYoFueraRico

– GHImagen (@ jany2805) August 17, 2018
Source link