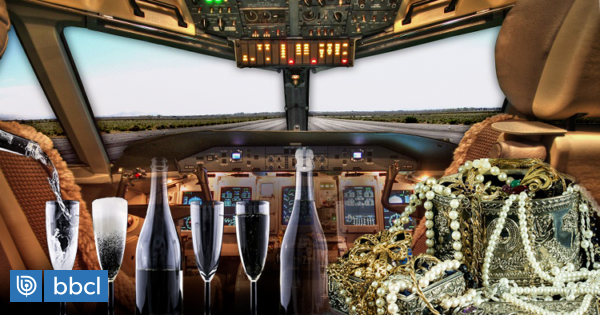 More than 500 different lots with costume jewelery, wines, clothing and technology, up to gold bars and 4 Boeing 737 aircraft, the National Customs Service will be ready on 2 September.
During the second auction in 2018, the service will sell goods stored in customs in the Valparaiso region, Metropolitana, Talcahuano, Osorno, Puerto Montt and Punta Arenas.
It is through this auction that the institution collects the taxes for the state. As usual, the catalog consists of thousands of articles such as toys, jewelery, clothing, footwear, electronic items, machines, vehicles and spare parts, among others.
On this occasion are the most valuable species 4 gold bars that is auctioned separately. Each of them weighs 4.40 kg and has a minimum level of $ 25,385,000.
Gustavo Poblete, deputy director of Customs, indicated that auctions take place every year. seized goodsor that were left in ports and warehouses suspicion of abandonment.
"They are very big auctions, where everyone can go and where You can visit the goods in advance"Of course, with prior coordination, according to Poblete.
The auctions are the final phase of the work of the customs legal and inspection teams. After detection, seizure and conviction, they get legal goods to be auctioned to generate income in favor of the tax.
Only the last auction by customs in Iquique achieved a collection of almost $ 450 million. In the meantime, the 4 auctions that were held in 2017 exceeded a total of more than one billion pesos.
Other products at the top are the Boeing 737 aircraft, which have minimum positions of $ 2,367,000 and capacities between 94 and 512 seats. They can be seen at the Nuevo Pudahuel Airport.
In the customs office of Punta Arenas emphasizes the auction of Belgian sailboat "Jacky IV" (1981). It measures more than 15 meters long (length) and can be seen in the Milcaví Yacht Club of Puerto Williams. The minimum position is $ 7,791,000.
Further north, in Valparaiso, marks 14 lots with a total of 11,700 bottles of Syrah wine. The starting position for each lot is $ 155,000 and they can be seen in the warehouses with additional storage from SAAM, in the city of Placilla.
Another point that attracts attention is that with 2 kilos of gold jewelry. Among these there are 52 chains, 45 rings, 57 hangers and 103 rings, among others. The minimum costs are higher than $ 13 million.
The director of the Metropolitan Customs, Wildo Arévalo, said that "we recommend the interested parties view the catalog published on the website"In this document are the payment conditions, in addition to the details and location of the products, which can only be visited until Saturday 1 September.
The auction will do this Sunday 2 September from 10 am, in dependencies of the Metropolitan Customs, located at Armando Cortínez Oriente 1605, at the international airport of Santiago. It will have the support of public auctioneers from the general management of lending facilities (Dicrep).
Source link